To prevent getting and spreading COVID-19, make sure you practice good personal health habits and avoid being exposed to the virus. Residents of Winnebago County are strongly advised to:
VACCINATION
Vaccination is the primary way to prevent the spread of COVID-19. All the available vaccines are very safe and highly effective at preventing severe symptoms and avoiding hospitalization and death from COVID-19. Getting vaccinated is the best way to protect yourself, your family, and your community from the risks of COVID-19. Vaccines are widely available throughout Winnebago County. Just visit wcvaccine.org for a list of vaccine clinic locations in our area.
Employers and organizations are highly encouraged to promote vaccination. Interested in hosting an on-site vaccine clinic? Contact the Winnebago County Health Department at 920-232-3026 or email health@winnebagocountywi.gov.
Looking for some information to share with your family, friends, co-workers, and others regarding vaccination? Check out our Toolkit for posters, social media posts, videos, and other resources.

WEARING A MASK
People with symptoms, a positive test, or exposure to someone with COVID-19 should wear a mask.
Your choice to mask may be based on personal preference and your personal level of risk. Those who are immunocompromised or are at increased risk due to age, disease, or other health complications may continue to mask to decrease the chance of infection.
If you have symptoms, are exposed to someone with COVID-19, or test positive for COVID-19 you should wear a mask until you receive a negative test or for 5 days following the completion of your isolation.
Masks MAY BE REQUIRED in the following settings:
Healthcare facilities such as hospitals and nursing homes.
Correctional and detention facilities and homeless shelters.
Places that are required by local or tribal laws, rules, and regulations, including local businesses and workplaces.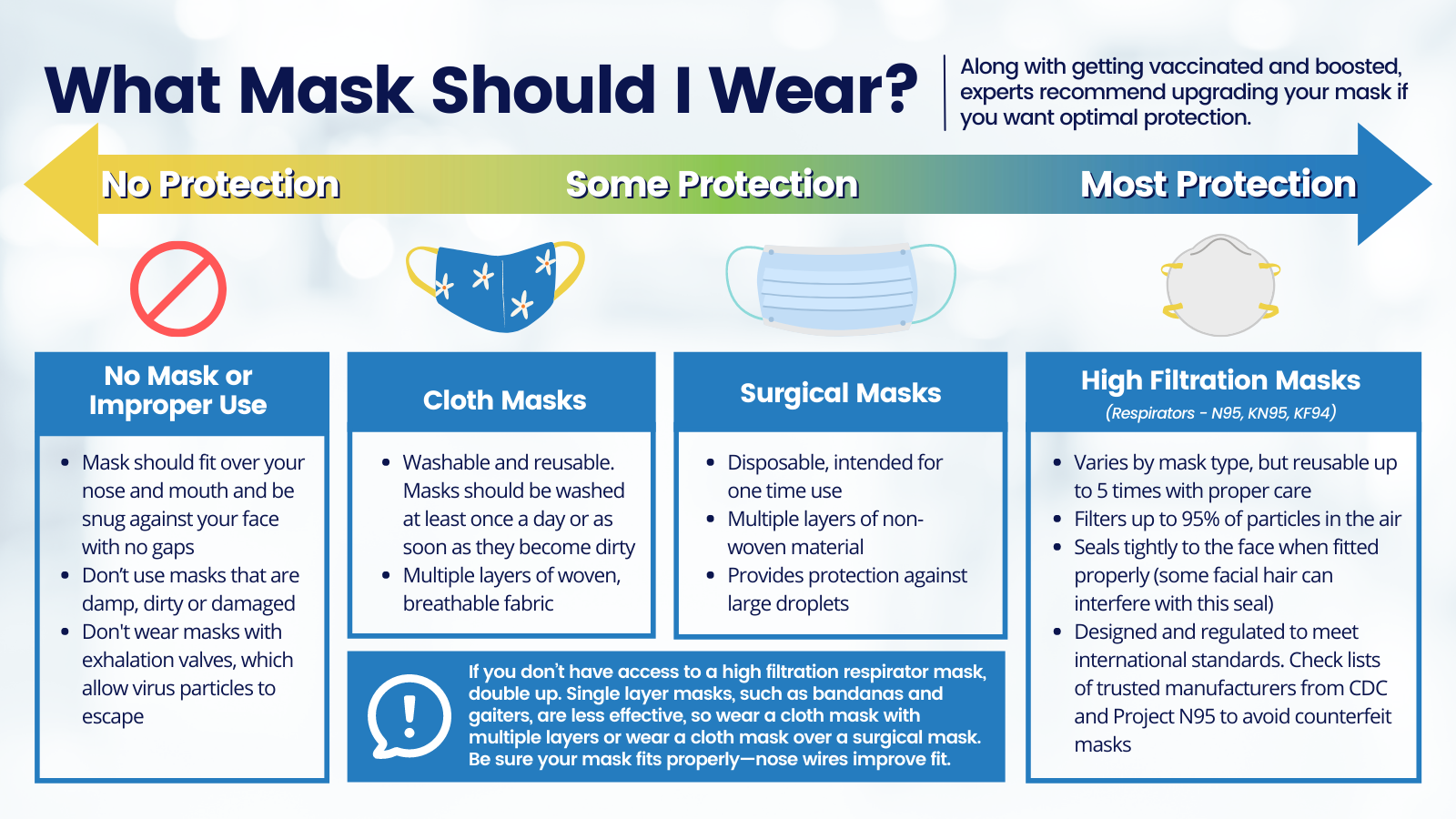 Additional Resources for Masking
    - Mask Information from CDC
    - Downloadable "Mask Required" signage with English, Spanish, and Hmong all on one page.
HYGIENE AND CLEANING
Continuing to maintain proper hygiene and disinfecting practices will help prevent the spread of COVID-19. Wash your hands often with soap and water for at least 20 seconds especially after you have been in a public place, or after blowing your nose, coughing, or sneezing.
It's especially important to wash your hands:
     - Before eating and preparing food
     - Before touching your face
     - After using the restroom
     - After leaving a public place
     - After blowing your nose, coughing, or sneezing
     - After handling your mask
     - After changing a diaper
     - After caring for someone who is sick
     - After touching animals and pets
If soap and water are not readily available, use a hand sanitizer that contains at least 60% alcohol. Cover all surfaces of your hands and rub them together until they feel dry. Avoid touching your eyes, nose, and mouth with unwashed hands.
Cleaning with a household cleaner that contains soap or detergent reduces the amount of germs on surfaces and decreases risk of infection from surfaces. In most situations, cleaning alone removes most virus particles on surfaces. When someone is sick or if someone is positive for COVID-19 it is recommended to disinfect your home. Disinfecting kills any remaining germs on surfaces and reduces the spread of germs. Immediately after disinfecting, wash your hands with soap and water for 20 seconds.
.