HIGHWAY DEPARTMENT HOURS OF OPERATION:
Effective March 29, 2021, the Highway Department office hours of operation are 6:00 a.m. to 4:00 p.m. Monday through Thursday, excluding holidays. 
NAVIGATION SEASON:
The 2021 Navigation season will run from April 20, 2021 through October 15, 2021.  Oshkosh lift bridges operate from 8 am to midnight daily. 
CTH "II" CLOSURE STARTING AUGUST 30, 2021 
CTH "II" will be closed for construction for approximately 10 weeks from Clayton Avenue to CTH "CB" beginning August 30, 2021.  The detour will be STH 76 north to US-10 EB, then SB on CTH "CB".  Then CTH "CB" NB to US-10 WB, to STH 76 SB.  Questions on this project can be addressed to John Luzinski, Miron Construction, at 920-886-7404 or John.Luzinski@miron-construction.com.
2021 NATIONAL WORK ZONE AWARENESS WEEK
DRIVE SAFE.  WORK SAFE.  SAVE LIVES. 
Governor Tony Evers proclaimed the week of April 26 through April 30, 2021 as National Work Zone Awareness Week in Wisconsin. There are typically more than 300 state highway and bridge improvement projects, in addition to other municipality-sponsored construction projects scheduled across Wisconsin every year that require work zones.  Last year, Wisconsin recorded more than 1,800 work zone crashes that resulted in 665 injuries and 17 fatalities.  Road workers, like all workers, have the right to a safe work environment, and all drivers have the obligation to exercise caution when traveling through work zones.  So, the State of Wisconsin joins road workers throughout Wisconsin and the United States in advocating for safe driving in work zones. 
FOLLOW THE LAW.  Slow down and move over, if possible, when you see flashing lights. 
Additionally, remember that texting and driving is illegal throughout the state, and it's illegal to talk on a handheld cell phone while driving through a work zone.  
PLEASE GIVE UNDIVIDED ATTENTION TO THE ROAD!
COUNTY RD "Y" PROJECT (I41 to County Rd "T")
A reconstruction project on CTH "Y" from Interstate 41 to CTH "T" will take place in 2021.  The plan includes utility relocation and adding asphalt pavement and gravel shoulders.  The road will be widened slightly. Safety improvements will be incorporated such as lowering hills and widening shoulders.  You can view the construction plans by clicking the following:
Any questions on this project should be addressed to the Highway office at  920-232-1700 or hwy@co.winnebago.wi.us.
COUNTY RD "CB" AND "JJ" INTERSECTION PROJECT
Winnebago County is in the process of developing plans for proposed improvements at the intersection of CTH "CB" and "JJ" in the City and Town of Neenah. The purpose of this project is to improve safety and traffic capacity for the traveling public.   
Due to COVID-19 guidelines, there will be no public hearing.  You may view the plans and submit comments by viewing the attached documents: 
PIONEER ROAD (future CTH "T" - from CTH "T" to  CTH "II")
Winnebago County is preparing plans and specifications for the Pioneer Road reconstruction project from CTH "T" to CTH "II". The project will also improve the Pioneer Road/CTH "II" intersection by improving sight distance along CTH "II" from Pioneer Road easterly along CTH "II".  Construction is planned for spring of 2022.
You can submit questions directly to the Project Manager, Dan Herzberg, at 920-405-3825 or dan.herzberg@graef-usa.com
ATV/UTV ROUTES AND REGULATIONS
The Winnebago County Board of Supervisors passed an ordinance at their meeting dated 9/17/19 allowing the use of all-terrain vehicles on certain county roads.  This becomes part of Section 7.16 of the General Code of Winnebago County and shall read as follows: 
WINNEBAGO COUNTY ROAD PROJECTS
The following projects within Winnebago County are in progress or are proposed. Check back here often for updates.  If you do travel through a work zone stay alert and obey all signs and flagmen.  Thank you for your patience and cooperation. 
OUT AND ABOUT IN WINNEBAGO COUNTY
If you're looking for the best routes for walking and bicycling in Winnebago County, there is a new resource for you.  The Winnebago County Trails Map, put together by the Winnebago County Bike/Ped Stakeholder Team, shows paved and unpaved routes, trails and facilities along with important amenities and features like public restrooms, points of interest, pet friendly areas, and fix-it stations.  The online map works on any smart device and printed maps will be finished soon.  For more information you can contact the Winnebago County Health Department at 920-232-3021.

Effective October 1, 2016 it became illegal to talk on a handheld mobile device while driving in a Wisconsin road work zone. 
Following the law is simple. Just remember: Orange cones – Put down the phones!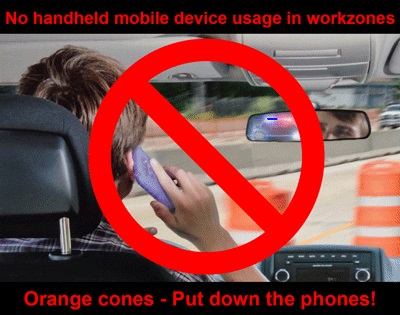 State of Wisconsin Road Construction
Visit WisDOT 511 for information on construction projects throughout the State of Wisconsin.