HIGHWAY DEPARTMENT HOURS OF OPERATION
Effective March 30 through October 30, 2020 the Highway Department hours of operation are 6:00 a.m. to 4:00 p.m. Monday through Thursday, excluding holidays.
COUNTY RD "A" PROJECT
The County Road "A" project is scheduled to begin on June 15, 2020.  The project will start at Indian Point Road and progress north to CTH "GG".  The detour route is CTH "GG" to Green Valley Road, to STH 76, to CTH "Y", to CTH "A".  
The project is anticipated to be complete by late October.  The general contractor is James Peterson and Sons.  Questions can be addressed to the project manager, Kurt Vogel, at 920-362-1732.
For local residents:
The contractor will provide a bank of mailboxes on both ends of the project limits during construction.  Property owners are responsible to remove their current personal mailbox, then reinstall after the project has been completed.  Please use the mailbox installation guide for reference. 
ATV/UTV ROUTES & REGULATIONS
The Winnebago County Board of Supervisors passed an ordinance at their meeting dated 9/17/19 allowing the use of all-terrain vehicles on certain county roads.  This becomes part of Section 7.16 of the General Code Of Winnebago County and shall read as follows: 
WINNEBAGO COUNTY ROAD PROJECTS
The following projects within Winnebago County are in progress or are proposed. Check back here often for updates.  If you do travel through a work zone stay alert and obey all signs and flagmen.  Thank you for your patience and cooperation. 
OUT AND ABOUT IN WINNEBAGO COUNTY
If you're looking for the best routes for walking and bicycling in Winnebago County, there is a new resource for you.  The Winnebago County Trails Map, put together by the Winnebago County Bike/Ped Stakeholder Team, shows paved and unpaved routes, trails and facilities along with important amenities and features like public restrooms, points of interest, pet friendly areas, and fix-it stations.  The online map works on any smart device and printed maps will be finished soon.  For more information you can contact the Winnebago County Health Department at 920-232-3021.
2020 NATIONAL WORK ZONE AWARENESS WEEK
2020 National Work Zone Awareness Week titled "Safe Work Zones for All: Protect workers. Protect road users."
The week of April 20-24, 2020 was named National Work Zone Safety Awareness Week.  The week is dedicated to maintenance workers, law enforcement, tow truck operators, etc. For more information you can visist the WisDOT website here. 
While driving, are you complying with Wisconsin's "Move Over Law"?  It's about being a responsible motorist and in place to protect them AND you.  Find out more about it here.
2020 National Work Zone Awareness
Drive Like you Work Here Facts
Work Zone Safety - It's in your hands!

Effective October 1, 2016 it became illegal to talk on a handheld mobile device while driving in a Wisconsin road work zone. 
Following the law is simple. Just remember: Orange cones – Put down the phones!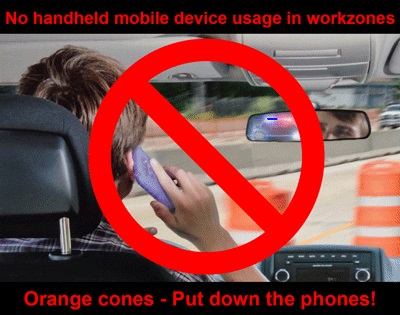 State of Wisconsin Road Construction
Visit WisDOT 511 for information on construction projects throughout the State of Wisconsin.