HIGHWAY DEPARTMENT HOURS OF OPERATION:
The Highway Department office hours are from 7:00 a.m. to 3:00 p.m., Monday through Friday, excluding major holidays.   
UPDATE:  CTH II Utility Project set for completion on Friday, November 17, 2023
The utility project on CTH II west of Martin Drive to the west of Clayton Avenue, will be open to traffic on Friday, November 17th.   The contractors expect to have the job completed and the barricades removed on 11/17/23.  Thank you for your patience throughout this project.
Navigation Season Closed October 15, 2023
The navigation season for 2023 came to a close on Sunday, October 15th.  The season will resume next April.  
 WIS 26 CLOSED IN FOND DU LAC COUNTY
Starting Monday, August 14, 2023, WIS 26 between CTH FF (near the southern border with Winnebago County) and WIS 23 in Fond du Lac County will be closed.   The project will replace two structures on WIS 26, and is expected to finish by the end of October of this year. WIS 26 will be closed and detoured during construction.  This project was contracted out through the WisDOT.  For further information you may call the Wisconsin Department of Transportation at 920-492-5743.
CTH "P" Construction Project
Winnebago County held a public involvement meeting on Tuesday, August 29, 2023. The purpose of the meeting was to discuss the proposed reconstruction project along CTH "P" from Wis 47 to Midway Road.  Discussion was focused on the preliminary design concepts for the reconstruction of the roadway and to gather public comments about the proposed project.  The project is currently planned for construction in the summer of 2025.  If you would like information, please contact design consultant Andy Dana at 920-498-1200. Written comments regarding the project may be mailed to Andy Dana, Ayres Associates, 3376 Packerland Drive, Ashwaubenon, WI 54115 or email to danaa@AyresAssociates.com.
PROPOSED CTH "I" (OREGON STREET) RECONSTRUCTION PROJECT
The Winnebago County Highway Department is proposing a reconstruction project along CTH "I" (Oregon Street) from south of Ripple Avenue to Waukau Avenue. The project is proposing to improve 1.2 miles of CTH I, including modernizing it to an urban two-lane roadway with a center turn lane, bike lanes, and new concrete pavement. Storm sewer will also be added and upgraded within the project limits to improve drainage and address flooding issues. The project is scheduled for 2024.
 Any questions or comments on this project can be addressed to Rowland Hoslet, PE, EXP U.S. Services, Inc. at 920-857-6304 or Rowland.hoslet@exp.com.   
April 17-21, 2023 NATIONAL WORK ZONE AWARENESS WEEK
The week of April 17 -21, 2023 was named National Work Zone Awareness Week.  
Work Zone Safety
Each year in Wisconsin, both highway workers and motorists are killed and injured in crashes that happen in highway construction zones. Motorists should slow down, be patient and pay attention to their surroundings in this and all work zones.
For more information regarding work zone rules for motorists, the law restricting hand-held devices, and general work zone safety information, please see WisDOT's work zone safety website.  To help safeguard law enforcement officers, emergency responders, road maintenance workers, and others who work on the side of the highways, Wisconsin has a "Move Over Law" (Wis. Stat. s. 346.072) stating that drivers must provide a safety zone for stopped law enforcement, emergency and maintenance vehicles.
The law requires drivers to shift lanes or slow down in order to provide a "safety zone" for a squad car, ambulance, fire truck, 
tow truck, utility vehicle, or highway maintenance vehicle that is stopped on the side of a road with its warning lights flashing.
Drivers have two options for creating a safety zone:
If the road has more than one directional lane, like the Interstate, and you can switch lanes safely, you must move over to vacate the lane closest to the law enforcement or other vehicle with its lights flashing.
If the road has a single directional lane or you can't safely move over, you must reduce your speed.
Failure of motorists to move over is one of the reasons that motor vehicle crashes kill more law enforcement officers on duty than any other cause.
Learn more about work zone safety.
Test your knowledge of​ the Move Over Law – take the quiz​.
The Winnebago County Highway Department values their employee's lives, we sincerely hope that you do too.  Every employee has family waiting at home for them each evening. Please drive accordingly!
2023 Winnebago County Road Projects
The following is a list of proposed road projects for 2023.  Any questions can be addressed to the Highway Commissioner at 920-232-1700.
2023 Winnebago County Road Projects
Please remain alert in all construction zones.  Obey traffic signs and flaggers.  
OREGON/JACKSON STREET BRIDGE IN OSHKOSH
The existing bridge was constructed in 1956 and is nearing its service life.  The Wisconsin Department of Transportation (WisDOT) determined in April of 2021, based on a bridge inspection, that several issues need to be addressed.  Construction is scheduled for summer of 2028. 
Additional information can be found here.
You may contact the WisDOT with questions or comments at:
920-360-3124 or William.Bertrand@dot.wi.gov
920-492-4153 or Mark.Kantola@dot.wi.gov
ATV/UTV ROUTES AND REGULATIONS
The Winnebago County Board of Supervisors passed an ordinance at their meeting dated 9/17/19 allowing the use of all-terrain vehicles on certain county roads.  This becomes part of Section 7.16 of the General Code of Winnebago County and shall read as follows: 
OUT AND ABOUT IN WINNEBAGO COUNTY
If you're looking for the best routes for walking and bicycling in Winnebago County, there is a new resource for you.  The Winnebago County Trails Map, put together by the Winnebago County Bike/Ped Stakeholder Team, shows paved and unpaved routes, trails and facilities along with important amenities and features like public restrooms, points of interest, pet friendly areas, and fix-it stations.  The online map works on any smart device and printed maps will be finished soon.  For more information you can contact the Winnebago County Health Department at 920-232-3021.

Effective October 1, 2016 it became illegal to talk on a handheld mobile device while driving in a Wisconsin road work zone. 
Following the law is simple. Just remember: Orange cones – Put down the phones!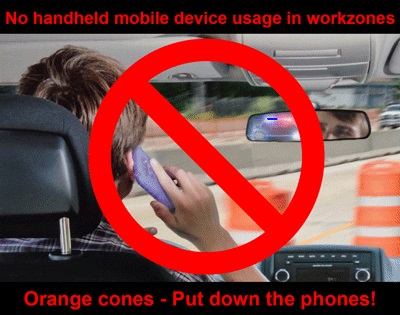 State of Wisconsin Road Construction
Visit WisDOT 511 for information on construction projects throughout the State of Wisconsin.