COVID-19 news:
We know many of you are concerned about the spread of COVID-19 and how it may impact us here at Park View. Ensuring residents are cared for in a safe and healthy environment is our first priority. At this time, we do not have any confirmed cases in our facility, and we ask for your help to reduce the potential for the virus to enter our building.
The Centers for Disease Control and Prevention as well as the Centers for Medicare and Medicaid Services have provided guidance specifically for skilled nursing facilities in an effort to prevent an control the spread of COVID-19. AT THIS TIME, UNTIL FURTHER NOTICE, we are STRICTLY LIMITING visitors to the facility. VISITORS WILL NOT BE PERMITTED, unless the visit is deemed emergent. If deemed emergent, such as the event of end of life, the following guidelines will be practiced:
     Personal protective equipment must be worn.
     Handwashing prior to & after visits; ensure cough coverage.
     Avoid touching multiple surfaces, handshakes, hugging, and keep at 
         least a 6-foot distance from yourself & the resident.
     Only visit the resident you are there to see; visit must be conducted in
         the resident's room.
We are staying up to date with CDC and CMS recommendations as well as state and local health departments.
Thanks for your understanding of the importance of this directive.
A letter from CNA Jorie Larson.  Poignant...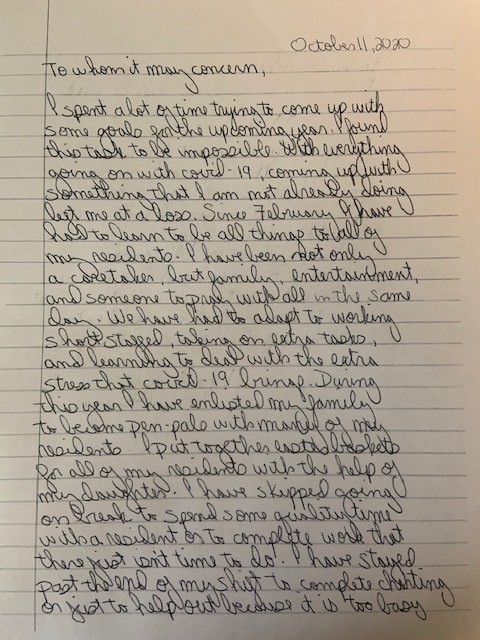 CHECK OUT THE NEW OPPORTUNITIES
ON OUR CAREERS PAGE!