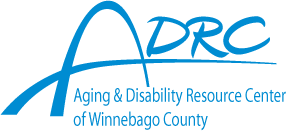 Mission Statement
The mission of the Aging and Disability Resource Center (ADRC) of Winnebago County is to empower and support seniors, people with disabilities and their families, by providing useful information and finding the help people seek so they may live with dignity and security, and achieve maximum independence and quality of life.
 
Who do we serve?
Family members and caregivers

Individuals who would benefit from understanding their options for long-term care/support

Professionals in the fields of healthcare, education, social services, and advocacy

The ADRC assists individuals regardless of their income or assets 
Is there a fee?
No, there is no fee for any of the services provided by the ADRC staff.