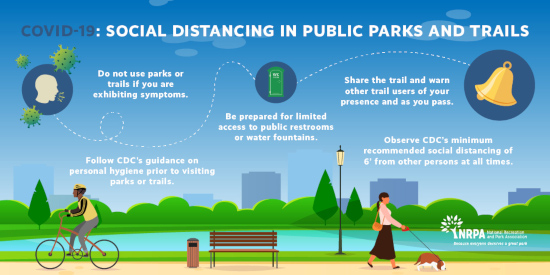 By executive order of the governor all parks offices will be closed to the public until at least April 24, 2020.
The WIOUWASH and Mascoutin trails will remain open as well as the shared use path within the Community Park.
The Best Friends Dog park is closed.
Use of the playground equipment, outdoor fitness, sport courts and fields and any multi-participant activity is not permitted under this order.
Shelter rentals are not being taken at this time.
The Boat Landing Trailer Parking Permit program is being suspended. No tickets will be issued for using the Winnebago County landings without a permit until futher notice. Festival Foods and Fish Tales will not be issuing any permits.
All events at the Sunnyview Expo Center have been cancelled or rescheduled. Check https://www.co.winnebago.wi.us/parks/sunnyview-exposition-center/event-calendar for event info.
For other organizations with events scheduled at Winnebago County Parks facilities contact the individual organization for updates.
As of March 24, 2020 the Winnebago County Parks Department has closed the county parks shelters and restrooms until further notice.  In conjunction with these closing the Parks Department has suspended its Shelter Reservations Program.  This action is consistent with Emergency Order #12 put in place on March 24, 2020 by the State of Wisconsin Department of Health Services.  The Shelter Reservations Program will resume once the State lifts restriction put in place in association with Emergency Order #12.
Existing shelter reservations will remain in place until approximately April 27th.  If restrictions associated with Emergency Order #12 are extended the Parks Department may elect to cancel all shelter reservations for the 2020 parks season.  Refunds and rescheduling options will be made available for our shelter customers.  Visit our Facebook page for periodic updates.
Additionally, as of March 24, 2020 the Winnebago County Parks Department is suspending the Winnebago County Boating Landing Trailer Parking Permit Program until further notice.  Likewise,  issuing of warnings and citations for violation of the program rules is hereby suspended until further notice.  
The above stated actions are consistent with Emergency Order #12 put into place on March 24, 2020 by the State of Wisconsin Department of Health Services. 
WINNEBAGO COUNTY PARKS has been selected to receive a $30,000 play space grant from the National Recreation and Park Association (NRPA) and The Walt Disney Company. This investment supports NRPA and Disney's combined goal of providing one million kids and families with greater access to play.

As part of the national Meet Me at the Park Play Spaces grant program, park and recreation agencies across the country were invited to share their best ideas on increasing access to play spaces for children and families in their communities. The 25 agencies with the most innovative and impactful project ideas were chosen to receive $30,000 grants to build their projects.

WINNEBAGO COUNTY PARKS will use the $30,000.00 grant to install the initial portion of  THE NATURAL WAY—To Live, Learn and Play  - Universally Accessible Outdoor Recreation & Education Facility, located inside the Winnebago County Community Park.

 

 

Winnebago County Parks has received a $100,000 grant for Asylum Point Bridge replacement.  View the full details.

Winnebago County Parks Newsletter 

Economic Impact Study

Winnebago County Economic Impact Studies, Phases I-III

User Group Meeting Agendas

2020 User Group Meeting Agenda
Winnebago County's "great outdoors" is truly spectacular. A wealth of lakes, streams and rivers, quiet woods, winding trails and wide open spaces offer countless recreational opportunities the whole year round.
Scenic waterways cover almost one quarter of the county, making the area a boating and fishing paradise. Popular fish species including walleye, bass, catfish, perch and musky inhabit the waters. Numerous birds, including several species of waterfowl, and a variety of other wildlife, nest and feed in the area.
The County's Community Park offers baseball, soccer, rugby, disc golf, archery, horseshoe, a dog park, fishing ponds, outdoor fitness equipment, playgrounds, bean bag toss, and ping pong. Some of the more unique offerings within the county parks system include a cross-country trails, snowshoe trails, snowmobile trails, the Tribal Heritage Crossing and an historic archaeological site.
Multi-purpose recreational trails for outdoor lovers to hike, bike, horseback ride, jog, walk dogs and snowmobile.
Attractions at the Sunnyview Exposition Center provide entertainment offerings throughout the year.
Community Park Hours
7am to 11pm daily April 1 to November 1 and 24 hrs per day (County Y entrance only) November 1 to April 1.