What is Radon?
Radon is a cancer-causing gas that occurs naturally from the radioactive decay of uranium in soil/rock. It's colorless and odorless and could be present in your home. The EPA estimates that radon is responsible for about 21,000 lung cancer deaths every year in the US. About 2,900 of these deaths occur among people who have never smoked. It is the second leading cause of lung cancer overall and the leading cause in non-smokers.  
Radon Levels in Winnebago County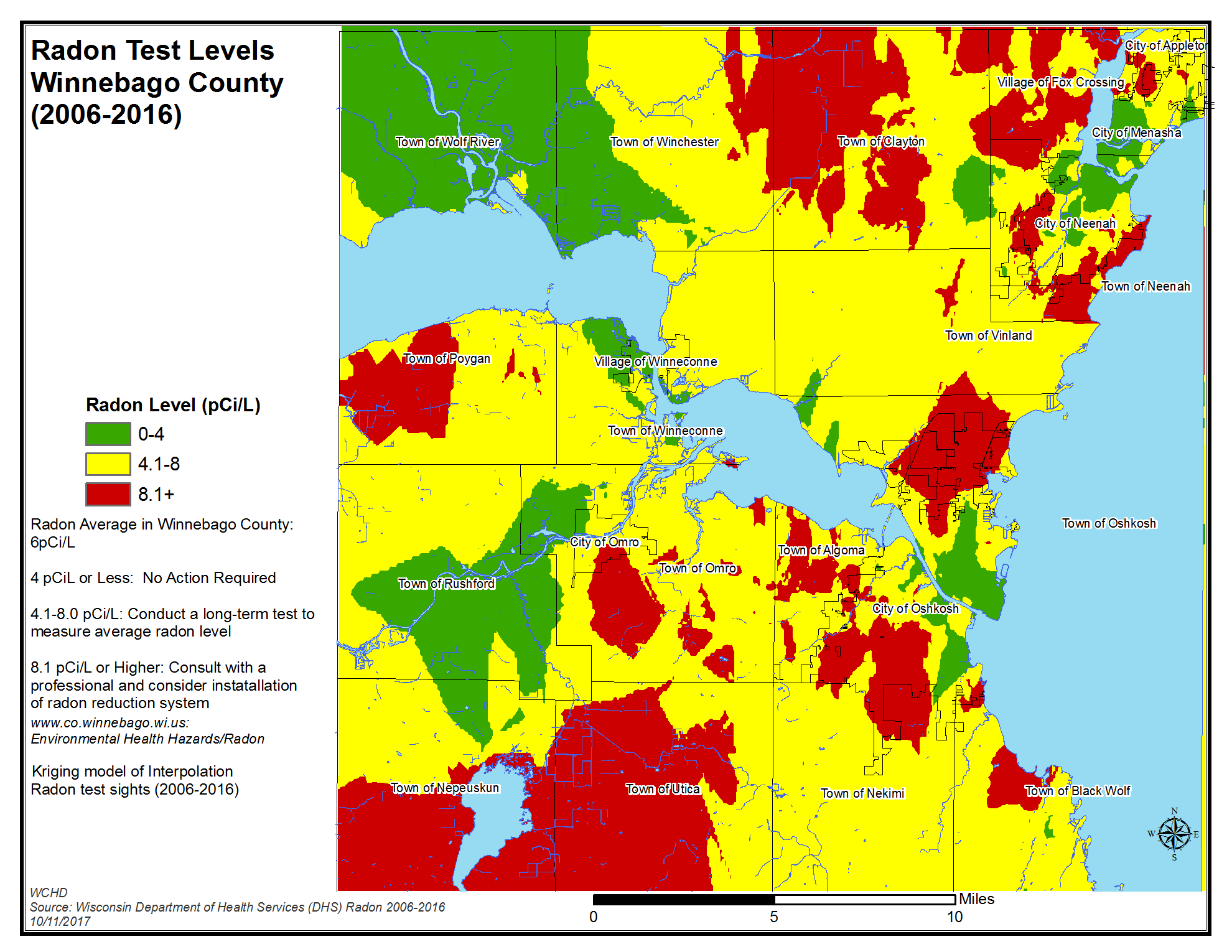 Review radon test averages over a ten year span in Winnebago County. Due to the high average radon levels in Winnebago County the health deparment recoments all homes be tested. Testing is inexpensive, easy, and the only way to know if your family is being exposed to radon.
Where Can You Buy a Test Kit?
Test kits are available for $10.00 at the Winnebago County Health Department (Oshkosh and Neenah offices).
What do the results mean?
Find your test results at Alpha Energy/Dr Home Air
| | |
| --- | --- |
| PicoCuries/liter of air (pCi/L) | Recommendations to Protect Your Family's Health |
| 4.0 pCi/L or less | No action required |
| 4.1 to 8.0 pCi/L | Conduct a long-term test to measure average radon level. |
| 8.1 pCi/L or higher | Consult with a professional, and consider installation of a radon-reduction system. |


If You Have Radon Problem, You Can Fix It.
If you discover that you do have a radon problem, there are simple and cost effective ways to take care of it.  Even very high levels of radon can be reduced to acceptable levels.
Other Related Links