Tennis/Pickleball/Half Court Basketball
Back to Top
Tennis/Pickleball/Half Court Basketball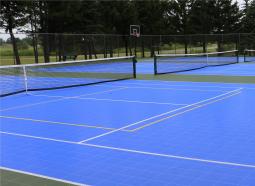 Two courts for Tennis and Pickleball. Pickleball courts are painted within the Tennis courts.
Basketball is also available.
Located in the middle of County park across from Shelter 4 and next to the south baseball diamond.
Back to Top
Dog Park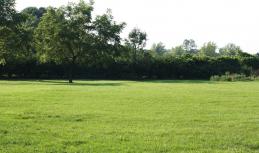 A 9 acre fenced area in the northeast corner of the park provides a secure environment for dog owners to exercise their pets off-leash. A separated section for small dogs is also available. The site is supported by ample parking and the facility remains open year round.
Dog Park Regulations
Be present with your dog at all times
Keep your dog leashed until it is inside the park
Have your dog under voice control or have it leashed
Have your dog licensed
Have proof of your dog's current rabies vaccination
An adult (18 years old) must be present at all times to take responsibility for your dog's behavior.
Visit the Friends of Winnebago County Dog Parks website: www.winnebagocountydogparks.com
Archery Range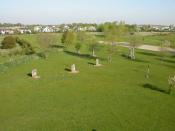 Located on the west side of the park near Shelter 3.
Poly targets for practice and a stand.
Shooting lane is ADA accessible.
Please take extreme caution and be aware of your surroundings.
Traditional and crossbow-style bows are allowed. No broadheads.
course. Hole 1 starts by the park pavilion.
We ask that you clean up after yourselves and dispose of trash properly.
Soccer fields are located at the south side of the Community Park. Currently there are 18 fields for use by area soccer clubs. Fields are marked on the nets. Contact the parks department if you are not involved in a club and are interested in using the fields.
Picnic Kits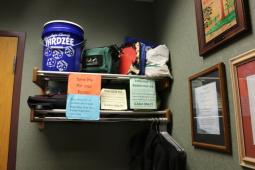 Add some fun and excitement to your picnic or outing.  The Winnebago County Parks Department has  outdoor games for rent.  These games include a Volleyball, a disc golf kit, ping pong paddles and balls, badminton, Yardzee and bean bags for corn hole.  They are $10 to rent with a $10 deposit which is returned once the items are returned.  The only exception is the disc golf kit which is $30 to rent with $10 being returned when brought back in the same condition as received.  We accept cash only for these items.  If you have any questions regarding rental, please call the Parks Office at  (920) 232-1960.