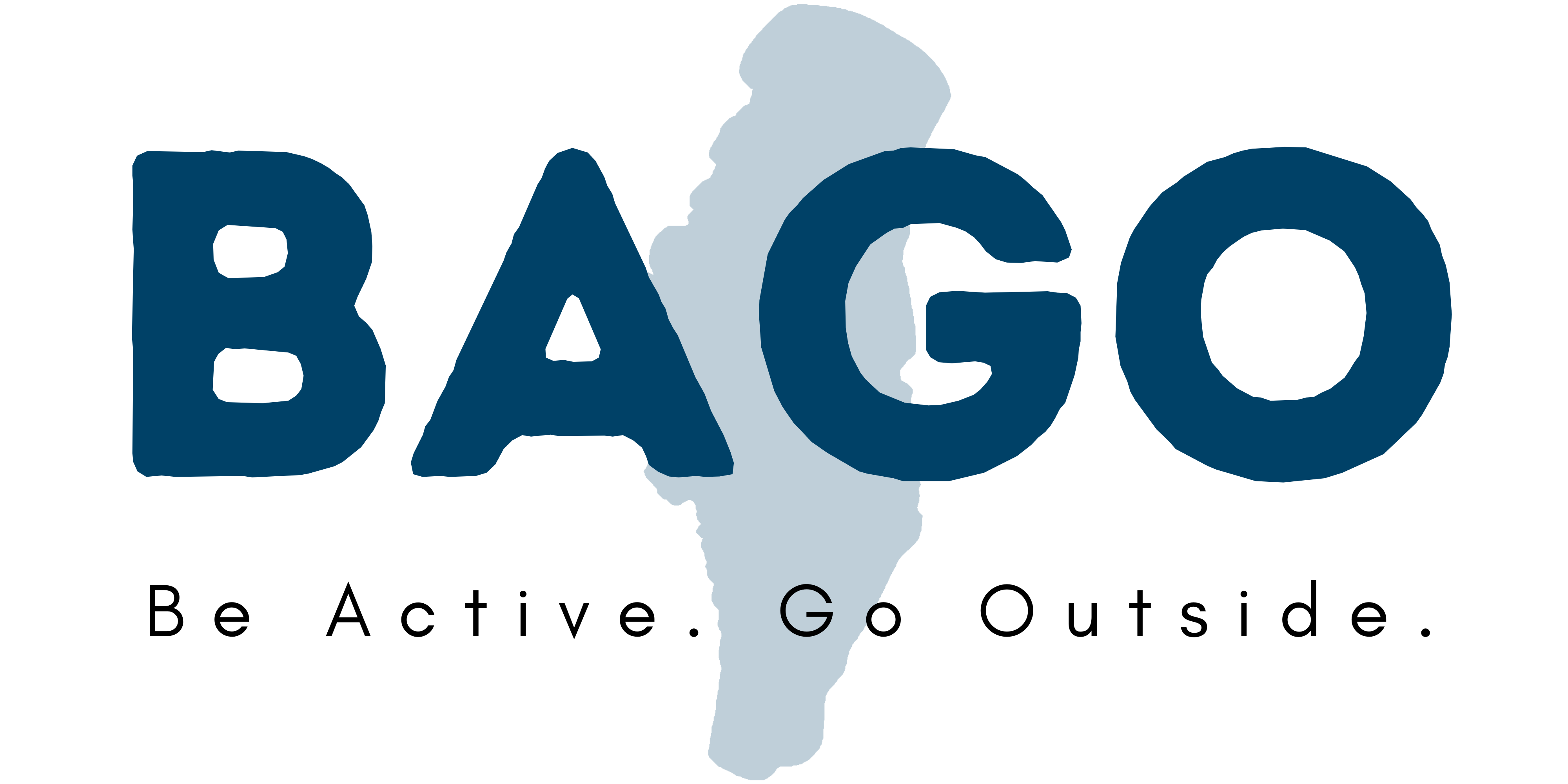 Presented by: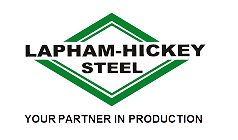 BAGO is a collaboration between the Winnebago County Parks Dept., Oshkosh Recreation  Dept., and pdsF.U.S.I.O.N.
The purpose of BAGO is to encourage kids and families to Go Outside. This year-long program will tap into the adventurous spirit of kids by offering monthly, themed events and activities geared towards individuals and families. Most of the events will take place at Winnebago County Community Park and the dates will vary depending on the monthly activities planned.
All BAGO activities and events will be open to the public and most of them will be free. Any funds collected during this year's program will go directly back into the program.
920 HOURS OUTSIDE
The BAGO program is based on 920 Hours Outside - moving our bodies with intention. The amount of time kids and adults spend outdoors matters for their physical and mental health. 920 Hours Outside will help move the needle on inactivity and obesity, and reduce the amount of time spent on our screens. Time spent outdoors will look different for each person and family, but the glorious part about nature play is that it is for everyone, no matter their age or stage of life. We encourage everyone to use the 920 Hours Outside Activity Tracker over the course of the year to track their progress. We will collect trackers during the last week of December and give away some awesome prizes to a few lucky people. We guarantee you will not regret committing 2023 to making memories outside!
SPONSORS
Lapham-Hickey Steel has generously funded this year's BAGO programming.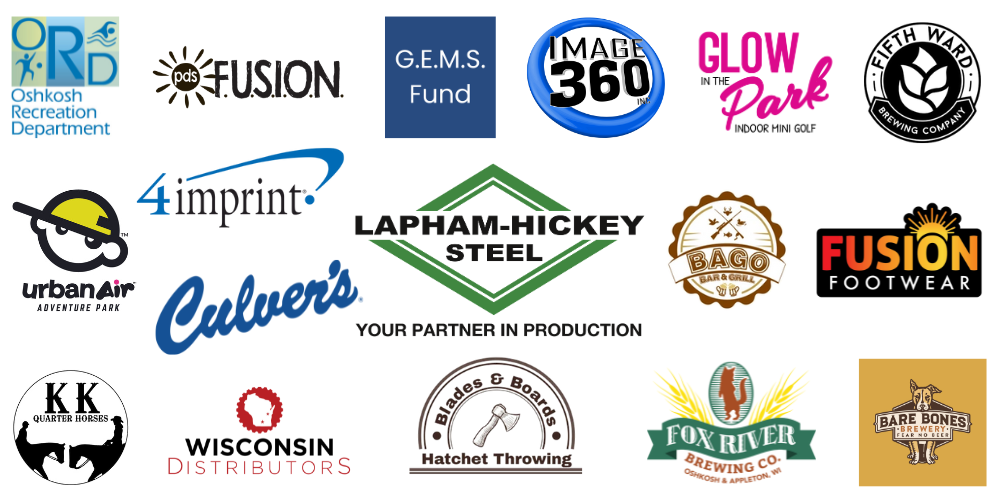 Other sponsors include G.E.M.S. (Giving Empowers My Sisters), Image 360, FUSION Footwear, 4imprint, Fox River Brewing Company, Culver's of Oshkosh - Westowne Ave., Glow in the Park, Urban Air Adventure Park, Bago Bar & Grill, Fifth Ward Brewing Company, Blades & Boards, Bare Bones Brewery, Wisconsin Distributors, and KK Quarter Horses.
CALENDAR OF EVENTS/ACTIVITIES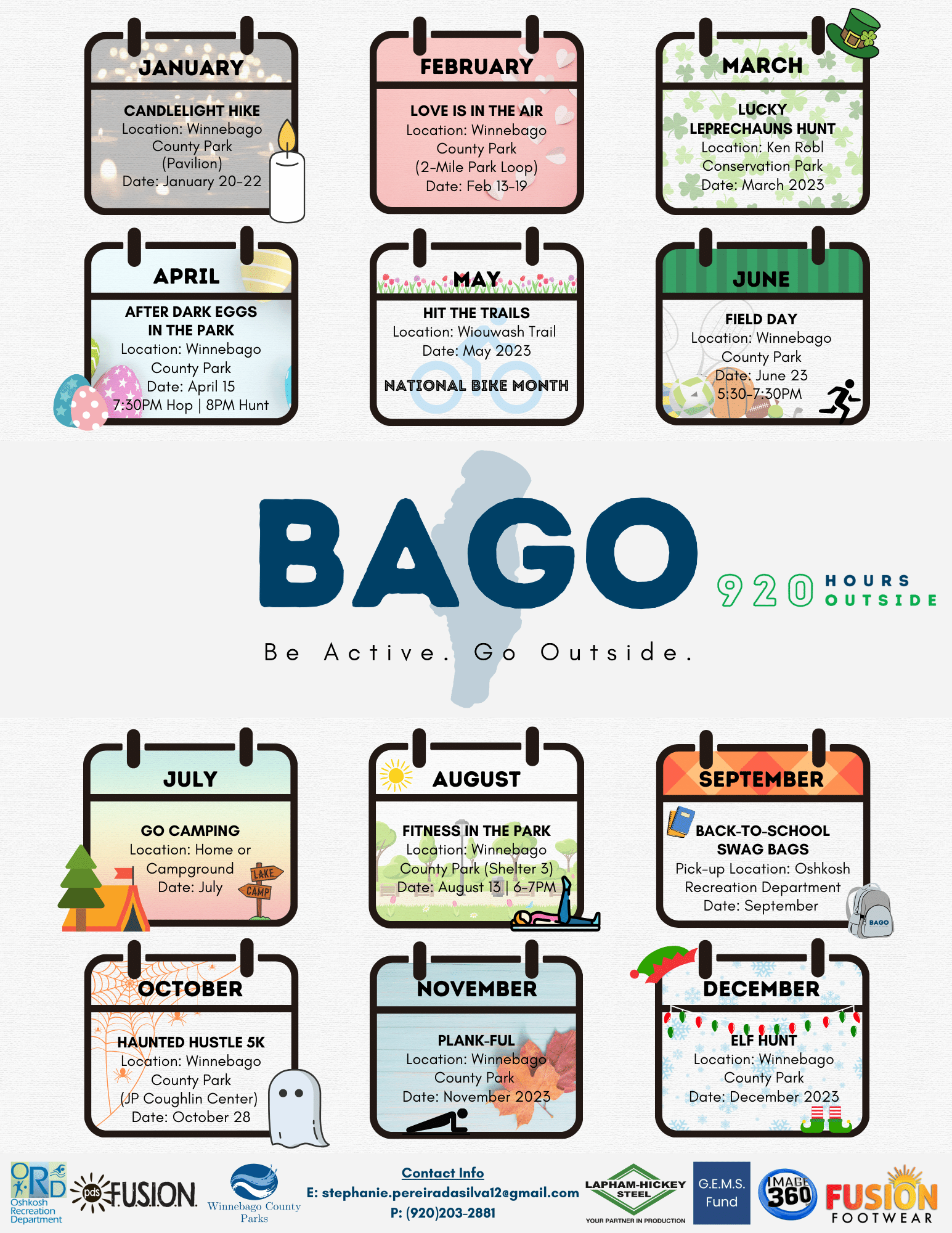 Download the BAGO Event Calendar.
JANUARY
Candlelight Cross-Country Ski | Snow Shoe | Hike - FREE!
Date/time: Jan 20-22; Fri & Sat 6-8 p.m.; Sun 1-3 p.m.
Location: Park Pavilion
Enjoy a candlelit night of cross-country skiing, snowshoeing, or hiking at the park. Limited equipment will be available (first come, first served). We do encourage attendees to bring their own equipment if they have it. Hot chocolate and smores will be available (We'll have a campfire for roasting your own marshmallows). Kids must be accompanied by an adult. Dogs are not allowed to join hikers.
FEBRUARY
Love is in the Air - FREE!
Date/Time: Feb 13-19
February is all about love and heart health. Individuals, families, and businesses are encouraged to get outside the week of Valentine's Day. Hearts will be marked along the walking trail at Winnebago County Community Park. Take a photo after your two-mile trail walk and send it to pdsfusioninc@gmail.com for a chance to win heart-healthy prizes.
MARCH
Lucky Leprechauns Hunt - FREE!
Date/Time: Daily, throughout March
Location: Ken Robl Conservation Park (map it)
With the Luck of the Irish, participants will follow a "treasure map" around Winnebago County Park. There will be 10 tokens (disc golf sized) placed around the different entities within the park. At each token, there will be a laminated sheet indicating what "lucky" exercise you must complete. Complete all 10 activities, snap a selfie, and send it to pdsfusioninc@gmail.com to become entered for prizes.
APRIL
After Dark Eggs in the Park - FREE!
Date/Time: April 15 | Hop at 7:30 p.m. & Egg Hunt at 8 p.m.
Location: Soccer Shelter
This isn't your traditional egg hunt... this is a glow-in-the-dark eggstravaganza for kids and adults! The event will kick off with a Bunny Hop followed by a nighttime egg hunt with thousands of glowing eggs throughout the park!
The Bunny Hop will be various lengths and go off in waves of different age groups. The glow-in-the-dark egg hunt will also go off in waves of varying age groups. Kids must be accompanied by adults.
Every kid participating in the hunt will get prizes... and adults will get adult-themed prizes! Everyone is encouraged to wear glow-in-the-dark items. AND... the Easter Bunny will be there hoping around and eager to take photos.
MAY
Hit the Trails - FREE!
Date/Time: Daily, throughout May
According to The League of American Bicyclists: "May is National Bike Month, promoted by the League of American Bicyclists and celebrated in communities from coast to coast. Established in 1956, National Bike Month is a chance to showcase the many benefits of bicycling — and encourage more folks to give biking a try. We encourage everyone to HIT THE TRAIL in May!
Check out these local recreation trails.
National Bike Month Events...
May 7: National Ride a Bike Day
May 19: Bike to Work Day
May 15-21: Bike to Work Week
JUNE
Field Day - FREE!
Date/Time: June 23 from 5:30-7:30 p.m.
Location: Shelter 4 and sport court area
Kick off the summer and get outside!
Field Day is an evening of fun at the park exploring different games, meeting new animals and having some tasty treats at the food truck.
More than a dozen different game and activity stations will be located near the sport court area and shelter #4 within Winnebago County Community Park. Kids can participate in any activity they choose, and hopefully discover a new favorite game along the way.
Jane, from On the Wing, is bringing some of her amazing birds to the park. And if you get hungry, you can grab a bite to eat at the On the Fritz Concessions food truck.
Everyone in attendance will also have a chance to win fun prizes.
JULY
Go Camping - Win a tent!!
This month BAGO is encouraging everyone to be active and go camping!
Whether you are camping in your backyard with a makeshift tent or exploring one of Wisconsin's beautiful state parks, camping can be enjoyed by almost anyone - especially if there is a campfire and s'mores.
Snap a selfie of you or your family camping and send it to pdsfusioninc@gmail.com for a chance to win a new tent or a WI state park sticker! Prizes will be given away at the end of the month.
AUGUST
Fitness in the Park - FREE!
Date/Time: August 13 at 6 p.m.
Location: Soccer Shelter *Enter the park at the south entrance on Snell Road. The north entrance on County Road Y will be closed!*
Enjoy an evening of fun, family-friendly fitness classes at the park!
Each class will be 20 minutes long and will start at 6, 6:20 & 6:40, so a person could go to all three. At the end of each 20-minute class, participants will get one raffle ticket. If you attend all three classes, you get three tickets. Drop your tickets in the bucket at the registration booth at the end for prizes!
Station 1: Fire Fitness is hosting a family boot camp.
Station 2: 9 Round is hosting family-friendly kickboxing.
Station 3: Simply Yoga is hosting family-friendly YOGA.
SEPTEMBER
Back to School Bago Bags - FREE!
Date/Time: Daily, throughout September
Location: Oshkosh Recreation Department Office (425 Division Street, Oshkosh)
We are giving away free, back-to-school bags full of items to keep kids active and outdoors!
OCTOBER
Haunted Hustle 5k
Date/Time: October 28 | Arrive at 5 p.m. & 5k starts at 6 p.m.
Location: JP Coughlin Center
The Haunted Hustle is an action-packed event with races and activities for the whole family! As dusk falls the fun begins. Enjoy a post-race bonfire, s'mores, music, straw bales, pumpkin decorating, and more.
$15 youth fee and $25 for adults. Participants will receive a Junk Band headband, medal, and customized race bib.
Register at pdsfusion.org/bago
VOLUNTEERS NEEDED! Contact Stephanie at fusionfootwear920@gmail.com.
4-5pm: Course Marking & Set Up
5-6pm: Parking Lot Activities
6-7pm: On Course Runners, Volunteers for Water & Scare Stations, Finish Line
7-8pm: Finish Line and Clean Up
PUMPKINS AND STRAW/HAY BALES NEEDED! Contact Justin at 920-232-1964 or jdejager@winnebagocountywi.gov.
NOVEMBER
Plank-Ful - FREE!
Date/Time: Daily, throughout November
November is all about what you are "plank-ful" for! The goal is to complete a one-minute plank at 10 different locations marked in the park. Snap a selfie in your best plank position and submit it for prizes!
DECEMBER
The Great Elf Hunt - FREE!
Date/Time: Daily, throughout December
Sleigh-what?! We just got a letter from Santa Claus saying his elves are up to "snow" good! Santa's scout elves have scattered across Winnebago County Community Park to play instead of watching over the good boys and girls before Christmas!
The Great Elf Hunt of 2023 will begin on December 1. Be sure to follow our page to keep up with Santa's updates on which elves are missing and in which parks they're being found in, every Monday beginning on December 4.
The elves MUST be returned to the North pole in order for Christmas to run smoothly, so please return found elves to the Oshkosh Recreation Department. Santa needs our help for the LAST time before Christmas. Get your flashlights and boots on before the snow comes and find these elves!