The Sunnyview Exposition Center occupies approximately one hundred acres north of the City of Oshkosh and only ten miles south of the City of Neenah. The site hosts a wide variety of events including horse shows, festivals, trade shows, meetings/training, the County Fair, and Lifest.
The 31,000 sq. ft. Expo building is the largest indoor, year-round facility of its type in the area. It can be divided into three sections to encompass exhibits and seminars with a ticket office, show office, and kitchen. Wedding receptions, meetings, training sessions, and many other annual events take place within the Expo.
The covered arena is a 48,000 sq. ft. facility that can host anything from horse and livestock shows to dog agility events and music festivals. There are no other facilities like it between Madison and Escanaba. Five Barns provide support for the covered arena as well as play host to other types of events. Other support facilities include a toilet/shower facility with exterior wash racks for livestock, a food court building, and an RV waste dumping station. There is electrical and primitive camping, an outdoor show arena, a large stage pad, and abundant parking areas.
Sunnyview Stadium is a large, open event area that can host 30,000+ in front of a state-of-the-art performance stage, with support facilities including a concessions stand, ticket office, restrooms, and a grandstand that can seat 4,600 people.
Follow the links below for info on the various buildings with their dimensions and other pertinent information:
Check out the Sunnyview Expo Booklet to learn more.
EXPOSITION BUILDING
Stevenson Hall (Center Hall)
Approximately 20,122 sq. ft., with entranceway foyer, 30' vaulted ceiling, and ticket office area. 2,875-person capacity.
West Wing
Approximately 6,027 sq. ft., all clear span. Adjacent restrooms allow for stand-alone use. Kitchenette area with sink. 861-person capacity.
South Wing
Approximately 5,304 sq. ft., all clear span and carpeted. Several options are available for partitioning into subsections. Kitchenette area with sink. 758-person capacity.
Overhead Doors
14' high x 12' wide (Center Hall), plus, 11' high x 11' wide (West Wing).
Kitchen
Located in Center Hall, standard size stove/refrigerator, upright beverage cooler, 10' long x 3 1/2' wide serving counter, four compartment sink, multiple electrical outlets, and ample cabinet space.
Public Address System
A public address system is available throughout the building with separate channels for wings.  Must rent ticket office to include in use.
Square Footage and Capacity
Total useable square footage - approximately 31,453
Total capacity of Expo - 4,400 people
BARN FACILITIES
All barns have asphalt walkways and driveways, electricity, drinking fountains, and hose bibs. Lower-level windows and roof "windows" provide good cross ventilation.
Barn A
144 x 60 enclosed - 8,640 sq. ft., 24 x 60 canopy on the west and a 136 x 60 canopy on the east. There is a concrete floor in the enclosed section.
Barn A - Addition
60 x 112 enclosed - clear span, gravel floor.
Barn B
160 x 60 enclosed - 9,600 sq. ft., 24 x 60 canopy on the west. There is a gravel floor in the whole area. Partitioned down the middle with a stockade wall.
Barn C
160 x 60 open barn with corral-type siding - 9,600 sq. ft., 24 x 60 canopy on the west. There is a gravel floor in the whole area.
Barn D
160 x 60 open barn with corral-type siding - 9,600 sq. ft., 24 x 60 canopy on the west. There is a gravel floor in the whole area.
Barn E
112 x 60 enclosed - 6,720 sq. ft., 24 x 60 canopy on the south. There is a concrete floor in the enclosed section.
OTHER FACILITIES
Food Court
64' x 60' outside, food prep area - 32' x 30', freezer/refrigerator, ample electrical outlets, sinks, and 6 service windows.
Grandstand
Seating for approximately 4,400 people is available in the half-covered/half-uncovered facility. Toilet facilities are located below the seating area on the east side and in the center. There are ample electrical outlets scattered throughout the area under the grandstand to allow for vendor setup. There is a permanent concession stand and ticket booth area. 
Toilet/Shower Building
This building is conveniently located near the barn complex. The building has showers, toilet facilities, and wash racks and is ADA-accessible.
Covered Arena
This facility is located on the eastern side of the grounds. The overall arena is 150' wide x 320' long. The large show ring (150' W x 220' L) and smaller holding corral (150' W x 80' L) are both located under the vaulted roof. There is bleacher seating for 600 with an adjacent parking lot for 60 cars. The arena also contains a registration office with a private restroom, roll-up windows, and a support room. There is a sound system with mics. The announcer stand is also portable. A drag is provided for use only in this arena, along with ample water hook up, and a water wagon.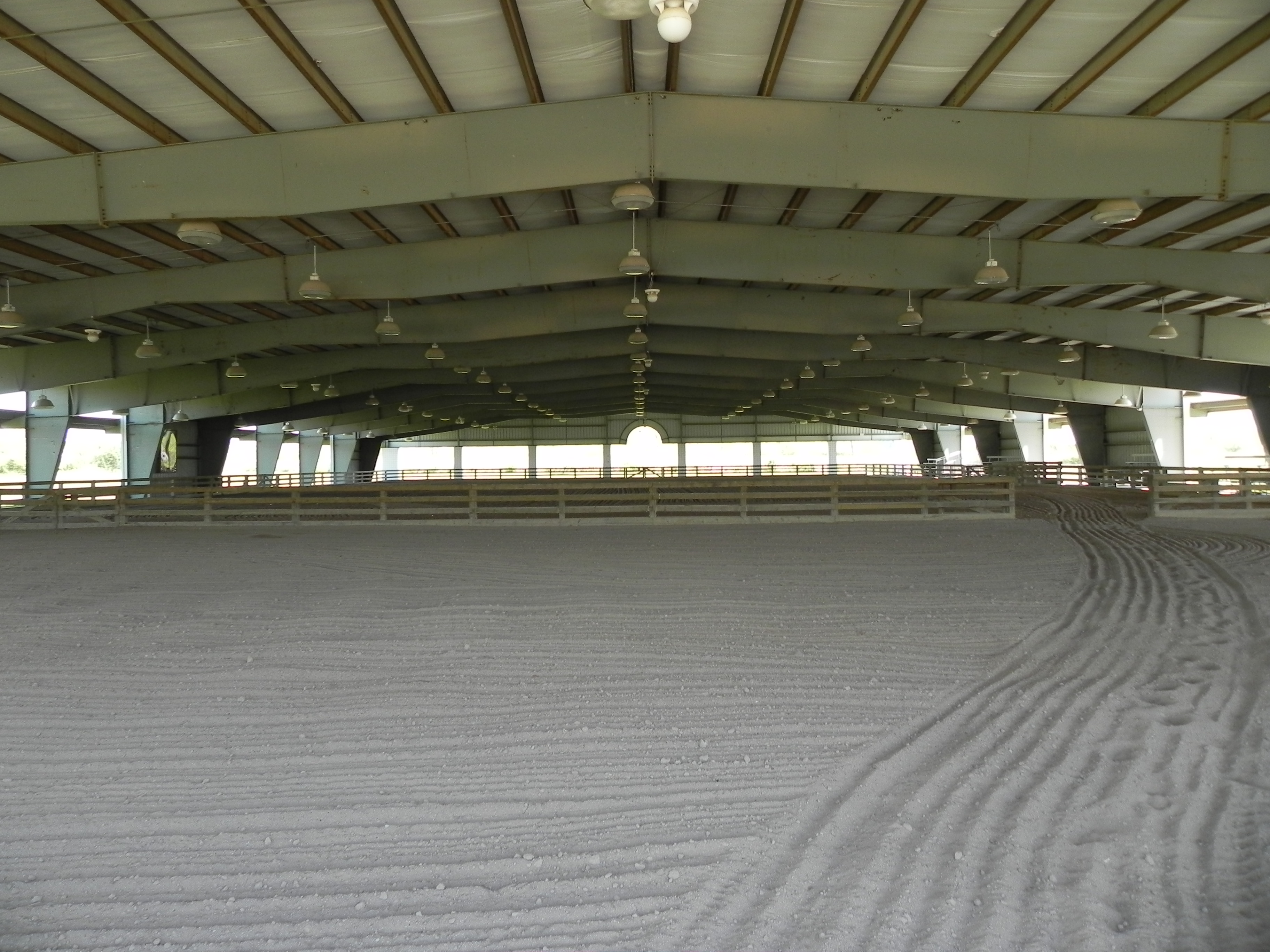 Outdoor Arena
A large ring with a holding corral is located north of barn A. The ring has a 150 x 220 competition corral, and an 80 x 150 holding corral. The competition corral is lighted. Limited bleacher seating is available at the ring with a separate P.A. System hook-up.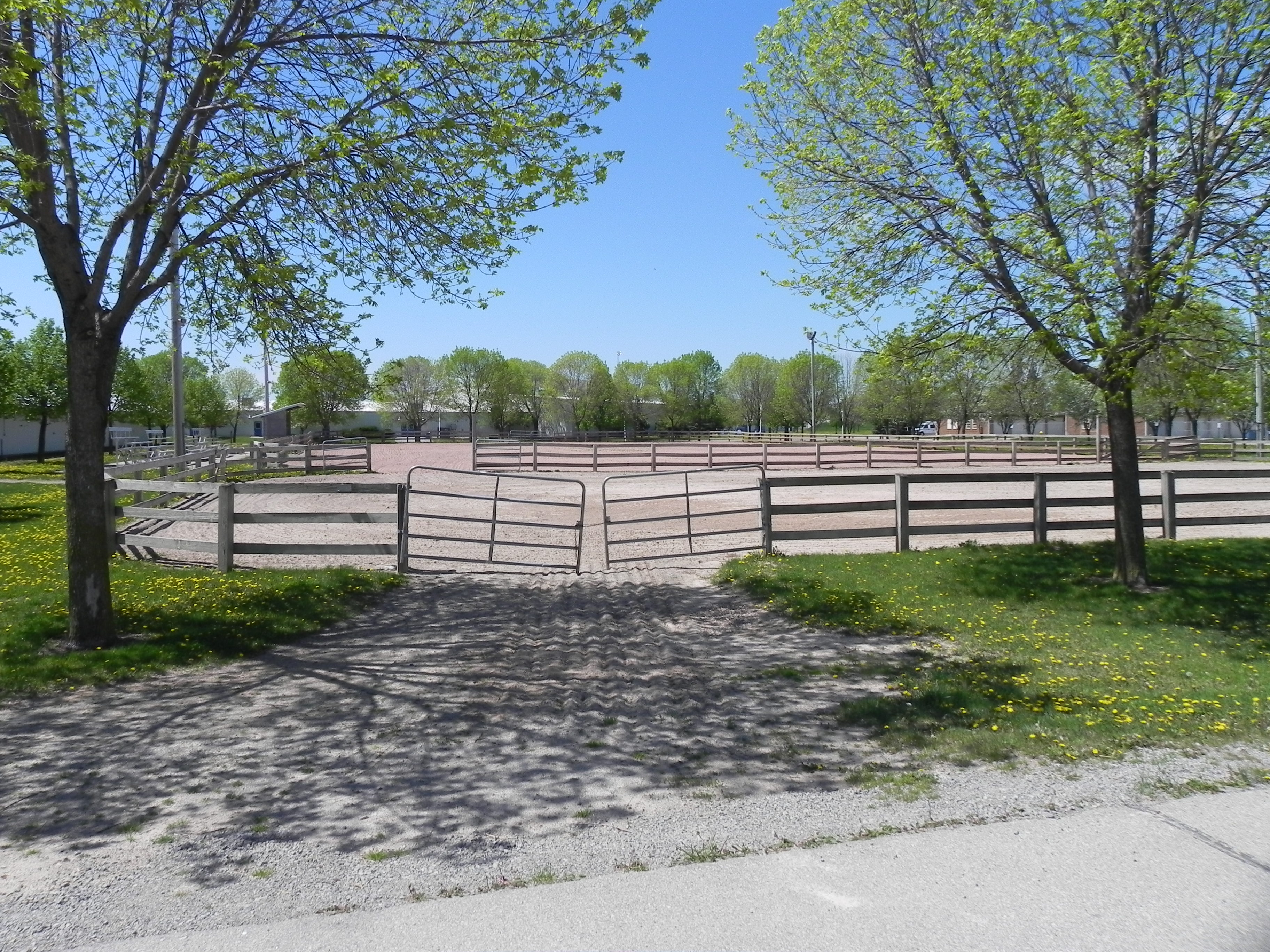 PARKING ACCOMMODATIONS
There is more than adequate parking available on the site. The main lot near the Expo building is asphalt, and the overflow parking area to the southwest of the main lot is gravel, and grass areas are also available.
The main parking lot area will accommodate approximately 1,200 cars.
Overflow parking is also available south of Barn D and there is exhibitor parking east of the barns. All parking areas are shared.
OUT-OF-STATE RESERVATIONS
Corporations
If a corporation from another state wants to make a reservation, some additional information is needed:
Is the corporation registered to do business in Wisconsin?
If yes - Name of Resident Agent (must sign contract).
If no - Registration with the Secretary of State is necessary before any business can be transacted.
Non-Corporation Business
If the business is not a corporation, a contract is made with the individual d/b/a (name of the business).
COVID-19 INFO
If you have any questions regarding Covid-19 testing or vaccinations, please contact the Winnebago County Health Department at (920)232-3026. You can also visit the Winnebago County Health Department website for more information here.