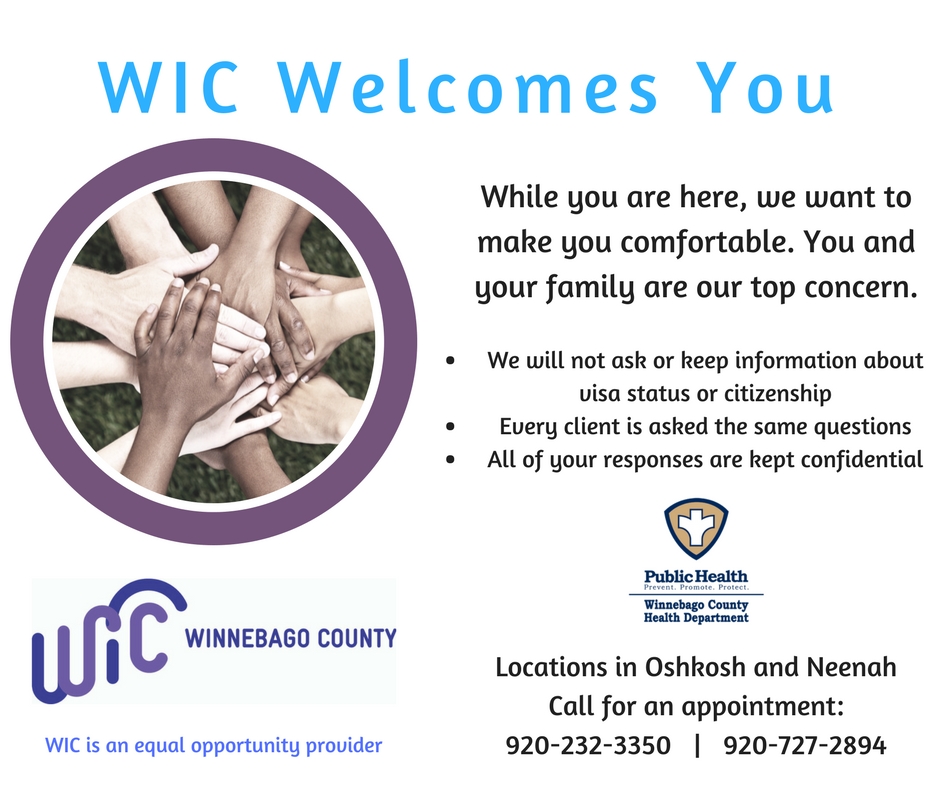 CLICK HERE FOR FORMULA RECALL INFORMATION
COVID-19 UPDATE: WIC is still operating, in-person and remote appointments available.  
For questions, call 920-232-3350 (Oshkosh) or 920-729-2945 (Neenah).

For breastfeeding support and assistance, please call Allison, International Board Certified Lactation Consultant, at 920-232-3354.
What is WIC? WIC is a national program that is implemented differently based on the needs of the region. In Winnebago County we are glad to have the WIC division working within our health department to support the needs of growing families when they need it most.
Mission Statement: To safeguard the health of low to moderate-income women, infants and children up to age 5 who are at nutrition risk, by providing nutritious foods to supplement diets, information on healthy eating and referrals to health care.
What the WIC program provides:
Education about nutrition, activity, and how to keep your family healthy
Tips for feeding your children Education and support for breastfeeding
Healthy foods to supplement your diet
Referrals to other services
We can also give you information about:
Breastfeeding and infant feeding
Car Seats Fetal and child growth and development
Depression and emotional health
Domestic Violence
Exercise
Health Insurance
House and home safety
How to stop smoking
Immunizations Medical and dental procedures
Planning your next pregnancy
Safe sleeping
Other community resources
Interested in applying for WIC?
Call our WIC office or click here to apply!
Please verify WIC Eligibility or BadgerCare eligibility before applying.
Call WIC's Direct Lines:
Oshkosh: (920) 232-3350
Neenah: (920) 729-2945
Fit Families is Now Enrolling! 
If you have children 2-4 years old and are interested in developing healthy habits like eating more vegetables, choosing healthy beverages or being more active, we can help! Learn more here.
Additional WIC Services:
This institution is an equal opportunity provider: USDA Nondiscrimination Statement