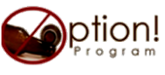 If this is your first offense ever for underage drinking, you have a choice:
Enroll in the Option Class within one week, or Go to court at the time and place listed on your ticket.
If you attend and successfully complete the Option Class, then your ticket will be Dismissed by the court.
A dismissal by court means no legal action on your ticket.
Retain your driver's license privilege.
No court appearance, no conviction and no fine.
If you are found guilty, you will be fined, may lose your driver's license (or your ability to get one on time for up to 90 days).
If you don't enroll, you will be scheduled for a court date as listed on your summons.
If you don't pass or fail the Option Classes, your case will be rescheduled for a court date.
To Enroll in a class:
Within one week and with your citation in hand, call 920-236-1196 betweem 8:00 a.m. and 4:00 p.m., Monday through Thursday, to fill out an enrollment form over the phone. This will stop legal action on  your citation.
Then, electronically pay with the registration fee after the enrollment is completed by phone, or Mail your non-refundable fee before the first day of you class. Do not send cash through the mail.
Classes are currently held remotely, on Zoom. You will need access to Zoom and the ability to communicate electronically with the instructor. 
Fees:
$50.00 for under 17 yrs of age
$225.00 for 17-20 yrs of age
Mail to:
Winnebago County Dept. of Human Services
Option Program
220 Washington Ave.
P.O. Box 2187
Oshkosh, WI 54903-2187