Due to the COVID-19 pandemic we are limiting contact with the community to phone and email until further notice. Please refrain from visiting our agency at this time. All of our services continue to be available, we're just offering them in a different way.
The Adult Protection team for this county is part of the ADRC and will be available to assess concerns for vulnerable adults in the community. We respect that may include a face to face visit to a consumer. Staff are available to answer any questions or provide support during our normal business hours Monday-Friday 8am-4:30pm at #877-886-2372.
We wish you well during this time and hope you are staying healthy!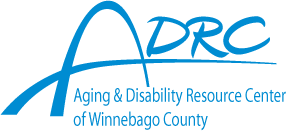 Mission Statement
The mission of the Aging and Disability Resource Center (ADRC) of Winnebago County is to empower and support seniors, people with disabilities and their families, by providing useful information and finding the help people seek so they may live with dignity and security, and achieve maximum independence and quality of life.
To translate pages on our website to other languages, Google Translate can only be used while in CHROME.
Who do we serve?
Adults age 18+

Adults with disabilities

Family members and caregivers

Individuals who would benefit from understanding their options for long-term care/support

Professionals in the fields of healthcare, education, social services, and advocacy

The ADRC assists individuals regardless of their income or assets 
Is there a fee?
No, there is no fee for any of the services provided by the ADRC staff.
Click here to view a short video on what an ADRC does.
Click here to view a Power Point about the ADRC of Winnebago County.
Every county in Wisconsin has an ADRC! If you are looking for an ADRC in another county, visit this site: https://www.dhs.wisconsin.gov/adrc/consumer/index.htm