Due to the COVID-19 pandemic, the Aging & Disability Resource Center (ADRC) of Winnebago County is limiting our contact with the community to phone and email until further notice. Please note that all of our services continue to be available, we're just offering them in a different way. Please refrain from visiting our agency at this time. The Adult Protection team for this county is part of the ADRC and will be available to assess concerns for vulnerable adults in the community. We respect that may include a face to face visit to a consumer. We have staff available to answer any questions or provide support during our normal business hours Monday-Friday 8am-4:30pm. You can reach us at #877-886-2372. We are wishing you well during this time and hope you are staying healthy!
Winnebago County Public Health
Covid 19 Information and Resources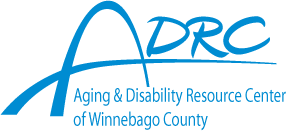 CLICK HERE TO PRINT CONTACT INFORMATION  
The ADRC and the State of Wisconsin are working together to improve the ADRCs and our services across the state.
We would like to get your feedback about your experience with the ADRC.  Your responses are collected by a 3rd party research firm and are completely confidential.
https://www.snapsurveys.com/wh/s.asp?k=152964174854
Do you need to call the Aging and Disability Resource Center?
When you call the Aging and Disability Resource Center of Winnebago County, a professional, courteous resource specialist will provide you with current information regarding community resources and support. All calls are confidential, and there is no charge for information.
ADRC Specialists can help individuals with diverse needs:
Older Persons
Adults with disabilities
Family members and caregivers
Persons who would benefit from Options for long-term care/support
Professionals in the fields of healthcare, education, social services and advocacy
Click here for more information regarding what we do
What can ADRC do for you and your loved ones
Mission Statement
The mission of the Aging and Disability Resource Center of Winnebago County is to empower and support seniors, people with disabilities and their families, by providing useful information and finding the help people seek so they may live with dignity and security, and achieve maximum independence and quality of life.