This
update is for June 6, 2022
We had a staff member test positive this morning on a rapid test that was completed following and exposure outside of the facility. This staff member has no COVID symptoms and does not provide any direct resident care.
The facility will remain in Outbreak status for a minimum of 2 weeks. The earliest date that the facility would be out of outbreak status is now 6/20.
ALL Staff are REQUIRED to be tested.
Staff that are up to date with vaccines – meaning your initial dose and 1 booster shot – will be required to be tested ONCE weekly
Staff that are NOT up to date or have approved religious or medical exemptions – will be required to be tested TWICE weekly
Community Transmission Rate
The community transmission rate continues to rise. Today the community transmission rate is at a medium level and the % Positivity for Winnebago County is 11.13.
There are no changes to Visitation.
1. Visitors are required to wear a mask within the facility. Visitors can choose to remove the mask if they are fully vaccinated and boosted when in the residents room with the door closed.
2. Visitors should remain out of common areas and should visit only in the residents room
3. Visitors should avoid unnecessary stops within the building
4. Outdoor visits are highly encouraged as the weather continues to improve
5. Visitors should NOT visit if they:
* Have symptoms of COVID-19
* Have been in contact with someone Confirmed with COVID-19
* Have tested positive for COVID-19 and are in their quarantine timeframe
Jessica Gilson, RN Manager-Quality Assurance & Infection Control
Volunteer Information
People volunteer for a wide variety of reasons. Some enjoy being helpful to others and bringing about smiles. Others want to feel useful and share their skills, gifts and abilities. Whatever the reason may be, volunteering can be a rewarding experience. Whether volunteering as an individual, a family, or with a friend, the contribution will provide a rewarding experience!
There are many volunteer opportunities for people to take part in at Park View. The following list includes a few of the opportunities available for volunteers: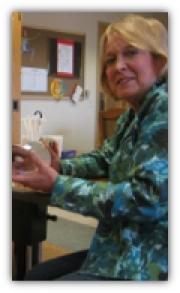 *Hair salon
       *Community appointments & outings
       *PVHC activities and the clinic
       *Outdoors for walks
Hosting Bingo sessions
Writing cards
Reading poetry, short stories and newspapers
Visiting one-on-one with residents
Sing-alongs
Showing videos and slides
Bringing a pet to visit
Playing games with a resident
If you are interested in becoming a PVHC volunteer, please contact the Activity Services office at 920-237-6931.
Share Your Talents -- Share Your Smile -- Make a Difference!
UPCOMING NEWS AND EVENTS  
PARK VIEW'S ONLINE APPAREL STORE IS ON HOLD UNTIL FURTHER NOTICE!
If you have any questions, please feel free to email Ashley Paul at apaul@co.winnebago.wi.us
Check out our Activity Calendar
Park View Health Center Quarterly Newsletter
Here is our quarterly newsletter:
Related Links