3/22/21 Update from the Director of Nursing:
Hello everyone, this update is for Monday March 22nd. 
We have received all of the resident and staff test results back from last week and everyone has tested negative for COVID-19.  The last positive case was on March 8th.  We are currently out of outbreak status and all neighborhoods are open, other than admission neighborhoods, for visitation.
The county positivity rate was at 2.7% this week and is below 5% now for consecutive weeks.
Cumulative Staff and Resident totals since March 2020:
Residents- 21
Staff- 75
Testing:
Residents will only need to be tested if there is a positive case, they are symptomatic or we enter outbreak status again. Outbreak status is defined as one positive case in a staff or resident.  Staff only need to be tested if there is a positive case and/or routine testing Monthly.  The next staff testing will be April 19th from 10:00-12:00 and April 20th from 1:00-3:00 and testing is mandatory monthly.
Visitation:
Visitation is currently open for all neighborhoods except admission quarantine neighborhoods.( Woodside 1 and Woodside 2-South)
Visitation hours remain 10-6 M-F and 8-4 on Saturday and Sunday. If visitors are here outside of these hours and it is not for a compassionate care visit, they will need to return during those visitation times. There are many steps to the visitation process at this time and these are the hours that we have someone scheduled to complete the check-in process. 
Compassionate care visits for any emergency or end of life situations will continue on a scheduled basis with the neighborhood staff and may occur outside of these times. 
We understand the weather is starting to improve, if you are taking your loved one outside for a walk, we please ask that you sign them out on the neighborhood and that you complete hand hygiene before and after, and also wear a mask while together outside.
Things to remember for visitation:
• Please check the hotline before you come; visitation restrictions can change suddenly. The number is 920- 237-6947.
• Visitation signs are also posted on the front door to alert visitors what level of visitation the facility is in and what neighborhoods are closed to visitation.
• Please check in with the front door assistant for the screening process
• Complete hand hygiene
• Wear a surgical mask provided by the facility – we would like to discourage the use of cloth face coverings as they are not recommended as source control from the CDC.
• Wear eye protection provided by the facility and return when you leave.
• Please only go directly to the resident room and visit in the room, avoid any common areas.
• Please keep your visit to an hour to allow all residents the opportunity to visit with loved ones.
• Please avoid eating and drinking or mask removal during the visit.
• Alert staff when you are leaving as we complete enhanced cleaning after visitation.
We ask that everyone please comply with the above guidelines so we can decrease any potential risk to the residents and staff and avoid an outbreak situation so visitation can continue. Any visitor that continually does not comply with the above infection prevention guidelines, will be asked to no longer visit.
COVID Vaccine:
As a reminder, our next COVID vaccine clinic is on Wednesday March 24th for second round of vaccines from March 3rd and any first round vaccines for those who have recently been admitted and want the vaccine.  The 2nd dose will be administered on April 14th. The vaccine being provided is currently the Pfizer Vaccine.
Updates will continue to occur with any status changes or guidance changes.  Thank you everyone!
Ashley Paul RN, BSN, QCP
Director of Nursing
People volunteer for a wide variety of reasons. Some enjoy being helpful to others and bringing about smiles. Others want to feel useful and share their skills, gifts and abilities. Whatever the reason may be, volunteering can be a rewarding experience. Whether volunteering as an individual, a family, or with a friend, the contribution will provide a rewarding experience!
There are many volunteer opportunities for people to take part in at Park View. The following list includes a few of the opportunities available for volunteers: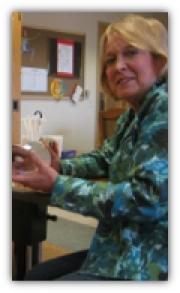 *Hair salon
       *Community appointments & outings
       *PVHC activities and the clinic
       *Outdoors for walks
Hosting Bingo sessions
Writing cards
Reading poetry, short stories and newspapers
Visiting one-on-one with residents
Sing-alongs
Showing videos and slides
Bringing a pet to visit
Playing games with a resident
If you are interested in becoming a PVHC volunteer, please contact the Activity Services office at 920-237-6931.
Share Your Talents -- Share Your Smile -- Make a Difference!
UPCOMING NEWS AND EVENTS  
Check out our Activity Calendars
Park View Health Center Quarterly Newsletter
Here is our quarterly newsletter:
 Related Links