Ah, Halloween. The feel of the crisp October breeze in the late afternoon and the sounds and sights of giggly costumed kids abound! Kids in spooky werewolf costumes; lovely princess outfits; superhero get ups that transform a 3 foot child into a mini muscle man and of course pets dressed up as devil dogs, hot dogs or angels. Halloween is a fun day filled with laughter, surprises, tricks, and… treats.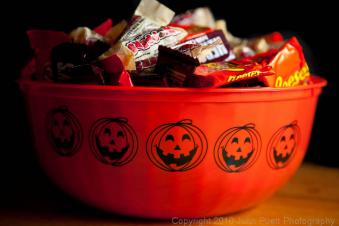 Treats.  
What to do with the treats. I hear so many parents complain about what to do with the treats after Halloween. Kids want to eat the treats, parents want to curb the consumption of treats and in some cases parents cannot resist eating the treats as well. Here are a few suggestions to having a guilt-free Halloween.
1. Establish rules before Halloween. In my household we have a jar designated for candy and treats. We keep only what fits in that jar; the rest gets thrown away or given away. This has caused my child to be very judicious about what treats she wants to keep. Banished are the lollipops, spicy candies, gummy bears and gum. In the jar go the chocolates, and the occasional chewy candies. Mostly though, my daughter has figured out that she values the chocolate treats much more than the other candy; so those make up the bulk of what is in the jar. This process allows her to be in control and make her own decisions. As such, there are no temper tantrums or angry feelings.
Your family could establish something similar or have other pre-established guidelines such as: "no gum" or "no sticky candy", etc. These have to be developed before Halloween season so it does not come as a surprise to anyone.  
2. Contact your dentist's office. Many dental clinics will "buy back" unopened Halloween treats. Some dental clinics will offer a nominal payment per pound of treats for registered patients ($1 a pound for a $5 maximum, for example). Other dental clinics accept donated treats during a specified time period around Halloween. Contact your dental clinic to find out if they participate in a similar program.
3. Donate the treats. There are quite a few websites such as www.operationgratitude.com or treats4ourtroops.org that will accept donations of unopened Halloween treats. The treats are sent to troops serving overseas.
Check with your local food pantries. Some local food pantries accept unopened factory wrapped donated treats that they use for special occasions.
4. Consider non candy types of food to give out as treats. Small boxes or packages of raisins or other dried fruit, animal crackers, granola bars, pretzels and the like are healthier alternatives to giving out sugar laden treats that often have little or no nutritional value.  
5. Consider non-food items as treats. Consider items like pencils, glow sticks, tiny decks of cards, bookmarks, small containers of play do, key chains, stickers and other non-food items as treats. If you want a Halloween treat that promotes physical activity, consider bouncy balls, jump ropes, or beanbag hacky sacks.  You can purchase these items in bulk at a considerable discount from many online stores or from discount stores in your area. My family has been giving out non food treats for years and the responses I hear from kids have never been disappointing. I have yet to hear a "What? No candy?"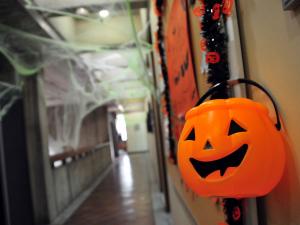 Whatever you do this Halloween always examine the treats your children get for choking hazards, or any kind of tampering before eating them. Avoid eating homemade treats made by strangers and consider keeping only factory wrapped treats. 
If you have other suggestions about what to do with Halloween treats, please share them with us.
Author, Julia Salomon