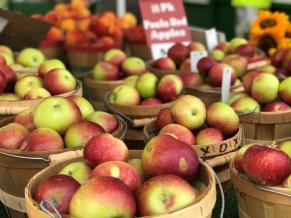 Fall is in the air, and now that it's finally safe to go outside without a full-body mosquito net, it's a great time to visit your local orchard. If you don't have time for that, many grocery stores carry locally grown apples this time of year for a reasonable price. Apples are in season in the fall, and there are many varieties available, such as Honey Crisp and Jazz, as well as some favorites like McIntosh and Cortland.
Apples have a lot of health benefits. One medium apple contains only about 100 calories, and has no fat, sodium, or cholesterol. It also has about four grams of fiber, is a good source of vitamin C, and contains other antioxidants and phytochemicals (plant compounds linked to helping prevent many chronic diseases). Some people are concerned about eating fruit because it contains sugar; however, most health care professionals are not concerned about naturally occurring sugars eaten in whole foods such as fruit. Apples also have a low glycemic index – this means they do not cause blood sugar to spike quickly, but instead give a slower, steadier increase in blood sugar levels. 
In addition to the nutritional benefits of apples, going apple picking can be a pleasant outing; one that routinely leaves you with way more apples than you can use before they go bad. Now what? Here are some suggestions for how to deal with your bumper crop:
Storing:
•Apples keep best at cool temperatures (30-35 degrees F) and high humidity (90-95%).  Keep them in the fridge in a plastic bag with holes, or in a cool cellar, garage, or porch.
•Thick-skinned varieties such as McIntosh, Fuji, Rome and Granny Smith keep the longest.  Sweeter, thinner skinned varieties like Red Delicious or Gala should be eaten sooner.
•Use any apples that are bruised or damaged first, as those will rot the fastest.
Eating fresh
•Send a sliced apple in your child's lunch (or take one yourself!).  Varieties that do not turn brown quickly include Honey Crisp, Gala, Cortland, Empire, and Cameo. You can also reduce browning by dipping sliced apples in lemon, orange, or pineapple juice.
•Add apples to a chicken salad or green salad for a sweet crunch. Try this Chicken Waldorf Salad recipe http://www.eatingwell.com/recipe/250282/chicken-waldorf-salad/ 
•Serve with yogurt dip, peanut butter, or a slice of cheese for an afternoon snack. Here are three recipes for yogurt fruit dip.  
Cooking/baking:
•Chopped or shredded apples can be added to quick breads, muffins, or pancakes.
•Add some chopped apples, walnuts, and a pinch of cinnamon to overnight oats.  Never heard of overnight oats?  Check out some recipes here: https://www.cookingclassy.com/overnight-oats-five-ways/
•Apples are good in savory recipes too.  Sauté chopped or sliced apples with onions and pork chops, or add apples to the slow cooker with a pork roast, such as in this recipe. 
•And don't forget – homemade applesauce is the best! 
Slow Cooker Homemade Applesauce
This recipe is flexible and forgiving – if you don't have the exact number of apples, it won't matter.  This is a good way to use up apples that are starting to get soft.  Any variety will work, or a mix of varieties, although some cook quicker than others.
Ingredients:
Enough apples to fill your slow cooker ½ to ¾ full.  This will vary based on the size of your slow cooker
½ cup water
1 tablespoon lemon juice
2 cinnamon sticks or 1-2 teaspoons cinnamon, optional
Sugar, brown sugar, or honey to taste, optional
Directions:
Wash, peel, and core the apples.  Cut into slices or 1-2 inch chunks and place in slow cooker.  Smaller chunks will cook down faster.
Add water and lemon juice to slow cooker.
Add cinnamon sticks or cinnamon if using.
Cover slow cooker and cook on high for 3-4 hours, stirring once or twice.  
Check to make sure the apples are soft.  Remove cinnamon sticks.  At this point you can leave the applesauce chunky if you like, or mash with a potato masher, blend with an immersion blender, or transfer in batches to a blender or food processer and blend until it is the consistency that you like.  Depending on the type of apples you used, the sauce may already be fairly smooth when it is done cooking.
Taste and add sweetener if desired.  Many apples are sweet enough already, so you may not need any sweetener.
Refrigerate for up to one week, or freeze for up to three months.
Enjoy!