Fall are a major risk...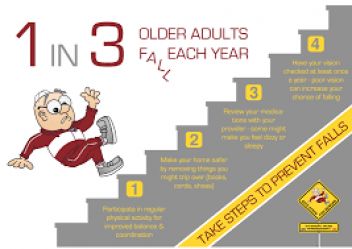 In Winnebago County, 314 people over 65 were hospitalized and 1,416 went to the emergency room due to a fall from 2013 through 2014.
But falls are preventable!
Stepping On workshops meet once a week for 7 weeks, to give participants a chance to hear from community safety experts like pharmacists and vision specialists, as well as build strength with the supervision of a physical therapist.  "It's also a wonderful social opportunity for participants. Members support each other during class and often walk away with many new relationships." says Barb, Public Health Nurse. and Falls Prevention Coordinator. 
The Stepping On class is designed for those 55+ and is for anyone looking to learn more about the risks and steps to prevent falls. Currently we have classes set up for Oshkosh and Menasha, allowing you to find the right fit for your schedule. To register for this class or for more information, contact Judy at 920-232-3000. 
Learn more about Stepping On and find workshops in communities throughout Wisconsin by visiting wihealthyaging.org. The Winnebago County Wellness Coalition holds many evidence based classes to support healthy aging and we're always looking for new partners to expand our locations – if you would like to lead or host a class through your organization contact Joanne Murphy Spice at 232-3006.