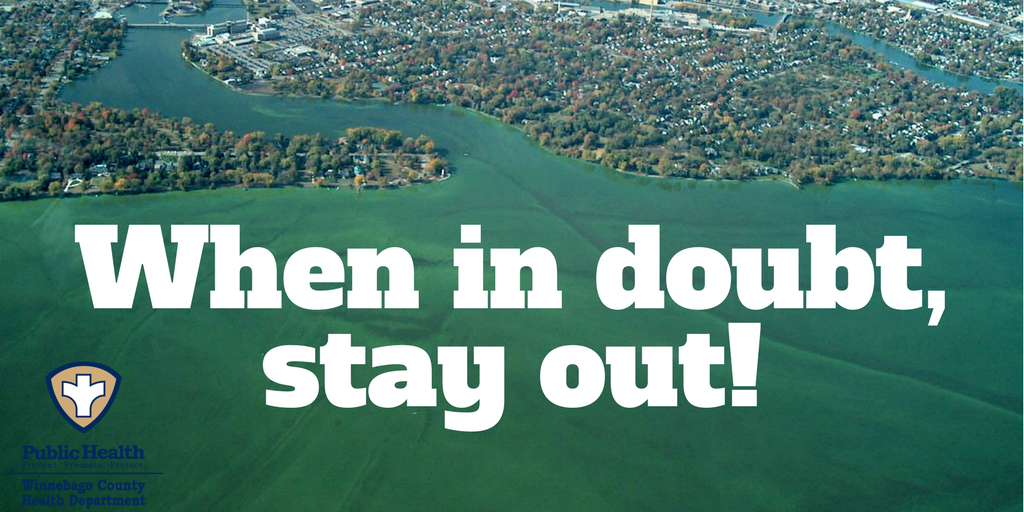 Winnebago County Health Department declares a
WATER QUALITY ADVISORY

for Lake Winnebago due to blue-green algae blooms. 

 

Satellite imagery

 by NOAA indicate recent concentrations of blue-green algae on Lake Winnebago. As the wind and temperatures change, blue-green algae conditions can change a lot. It is important to look at the water before entering, particularly before letting children and pets go in the lake.

 

If you suspect a child or pet has ingested contaminated water, contact your medical provider or veterinarian immediately. Blue-green algae may produce a toxin that is harmful to health. The DNR and Winnebago County Health Department are posting this advisory at common Lake Winnebago access points.  
We recommend common sense measures for safe water recreation practices if blue-green algae are present. If you can't see your feet in knee-deep water, if water has an opaque, pea soup-like appearance, or if surface scums or foams are present: 
Avoid swimming in these conditions, there is a high risk of illness from swallowing or inhaling blue-green algae.
Keep small children and pets out of the water.
Avoid boating, water skiing, or jet skiing through waters impacted by BGA to avoid inhalation of water droplets.
Shower after swimming in any body of water.
Wash pets off before they can groom themselves.
Talk with your neighbors to make sure they are aware of blue-green algae dangers.
The Department of Health Services now tracks illness related to BGA. If you get sick after swimming in Wisconsin, report your illness by calling 608.266.1120 or fill out a survey online.