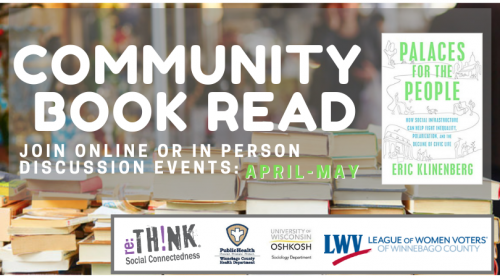 All are welcome
Join us for a community book read featuring the book Palaces for the People by Eric Klinenberg. This book introduces the notion that shared spaces can improve our health and happiness, and are vital to communities. Our goal is to raise awareness about the concepts and work of the Social Connectedness Team right here in Winnebago County.
Why this book
The topic of social connectedness has been identified by our public health department as a health barrier, and is part of our Community Health Improvement Plan. Holding a community book read around Palaces for the People will guide our discussion as we visit different public spaces throughout the county. We hope that the concepts of this book will be brought to life and bring different residents and interests to the discussion if we use a variety of settings (e.g., parks, town hall, brewery, library, church, etc.).
Resources
Posters to help promote at your organization:
Pull Tab Poster| General Poster
Need a book?
A few books were donated for sharing purposes- email the health department if you need to borrow a copy.
Discussions
Event Locations: