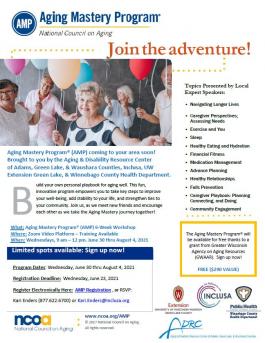 AMP will help you create your own playbook for aging well via actionable goals, sustainable behaviors, peer support, and fun! The program encourages mastery—developing behaviors across many dimensions that will lead to improved health, stronger financial security, and overall well-being.

What you will gain from the AMP workshop:
Information to help you make small but impactful changes to enrich your life.
Expert knowledge from guest speakers covering 12 core topics: Navigating Longer Lives: Caregiver Perspectives Assessi  ng Our Needs; Exercise and You; Sleep; Healthy Eating & Hydration; Financial Fitness; Advance Planning; Healthy Relationships; Medication Management; Community Engagement; Caregiver Playbook: Planning, Connecting, and Doing; & Falls Prevention.
A chance to meet new friends, provide support and encouragement to your peers, while learning ways in which to be safely involved in your community.
Dates and Times
Wednesday, June 30, 2021 - 9:00am
Wednesday, July 7, 2021 - 9:00am
Wednesday, July 14, 2021 - 9:00am
Wednesday, July 21, 2021 - 9:00am
Wednesday, July 28, 2021 - 9:00am
Wednesday, August 4, 2021 - 9:00am