Who We Are

Our Mission Statement
Park View Health Center is a county-owned, skilled nursing facility dedicated to providing services to residents of the Winnebago County community in need of long-term care, short-term rehabilitative care, and specialized behavioral services.
What services do we provide?
24-Hour, Skilled Nursing Care
Certified Social Services Staff
Psychiatric Services
Physical/Occupational/Speech-Language Therapy
Respiratory Therapy
Certified Dietitians
Private Pay, Medicare and Medicaid Billing
Laundry/Housekeeping Services
In-house Salon Services
Volunteer-sponsored Gift Shop
What makes us unique?
Accommodations are made for Winnebago County residents regardless of their challenging physical/developmental/mental issues and their ability to pay.
Park View is a smoke-free campus, which encompasses the building and all surrounding parking lots and grounds.
The facility is nestled in a park and offers more than ten courtyards as well as working vegetable and flower gardens.
The newer building provides comfortable, home-like accommodations with private rooms and wall-mounted, flat-screen televisions.
The dining areas within each of the sixteen households are spacious and inviting.
Park View is a certified "Wisconsin Music & Memory" facility.
Soft-touch massage therapy is offered by licensed therapists to residents requesting those services.
There is recognition of the therapeutic value of pet visits and it is an encouraged practice. They must be on a leash, not harmful to others, and they are not allowed in dining areas. Pets must also be up-to-date on their vaccinations and healthy at the time of their visits.
Park View provides in-house, certified wound care nurses.
Area health systems and managed care organizations provide physician extender services (i.e., nurse practitioner, physician's assistant) whom regularly visit their patients at Park View.

OPTUM® – Park View Health Center has partnered with UnitedHealthcare® to offer OPTUM to our residents. OPTUM provides Medicare-covered, onsite care to nursing home residents, with no additional premium costs beyond the original Medicare and Medicare Part D premiums.

If a resident chooses OPTUM services, the assigned, in-house nurse practitioner will work closely with the resident and family members, their physician, and our staff in providing consistent, coordinated and compassionate care, potentially avoiding the number of stressful trips to the hospital.
What We Look Like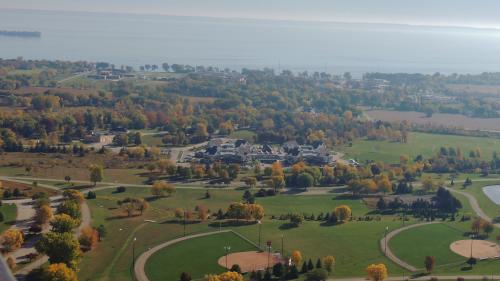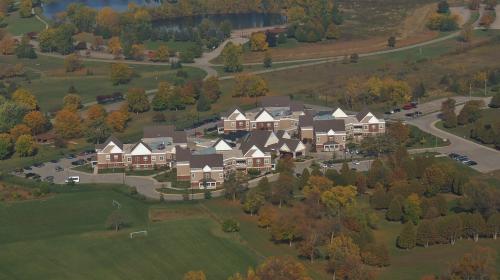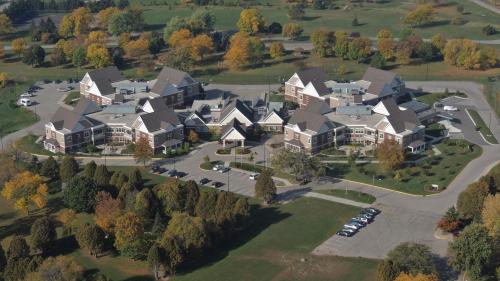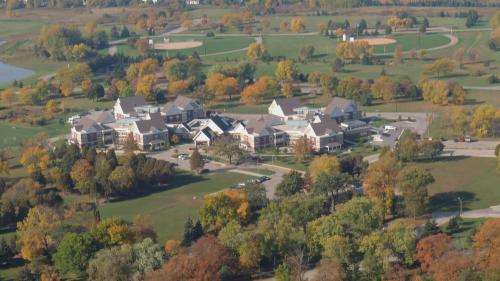 Park View Health Center is owned and operated by Winnebago County. Surrounded by a beautiful park, Park View is located on the north side of the city of Oshkosh and approximately five miles from the Neenah city limits. (Google Maps)
Click on an image below to view a larger version.
How to Apply
Admissions
Park View is a skilled nursing facility and provides care for as many as 168 adult residents. We are licensed by the State of Wisconsin and certified for Medicare and Medical Assistance.
For eligibility information for Medicaid, go to www.dhfs.state.wi.us/medicaid
For eligibility information on Medicare, go to www.medicare.gov
For admission questions, please contact the Admissions Coordinator at 920-420-0971.
You can Apply Online, or print off the paper form below.
Documents
Employment
If you are interested in learning more about positions that may currently be available on our PVHC team, please check our Human Resources Department website.