Unwanted/Expired Medication
Winnebago County now offers FOUR permanent medication drop-box locations.  They are located at: City of Oshkosh Public Safety Building, City of Neenah Police Department, City of Menasha Police Department and Village of Fox Crossing Police Department. These drop-boxes are available 24/7 and the safe disposal service is available free of charge to Winnebago County Residents. Please visit the Winnebago County Health Department webpage for more information about the drop-box program.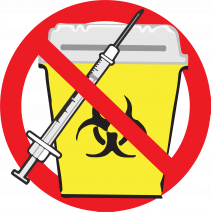 Never put medical sharps in your trash or recycling cart. 
Used and unused sharps must be placed in an acceptable sharps container and taken to a registered collection facility. For current information on sharps drop-off locations, please visit the Winnebago County Health Department or Wisconsin Department of Natural Resources Household Sharps website.
Medication Disposal Do's and Don'ts
DO
REDUCE pharmaceutical and medication waste whenever possible:
Buy only as much as can reasonably be used in the immediate future.
Ask the doctor to prescribe only enough to see if a new prescription medication will work for you, and in the lowest dose advisable.
DISPOSE of the remainder properly:
Utilize local permanent drop-box to dispose of your unused pharmaceuticals.
If you are unable to take medications to one of the above, free, 24/7 drop off locations, render your leftovers unattractive by mixing them with coffee grounds or cat litter. Then place them in your trash for disposal in a licensed solid waste landfill.
DON'T
Flush waste drugs down the toilet or sink drain.
Burn pharmaceuticals or personal care products in a burn barrel.
More Information
For pharmaceutical reduction tips, visit: http://dnr.wi.gov/topic/HealthWaste/HouseholdPharm.html
For drug take-back events, additional collection box locations, and information to detect and prevent drug abuse visit: http://doseofrealitywi.gov/