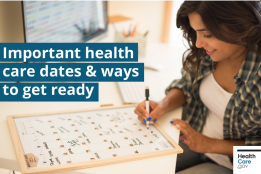 Partnership Community Health Center has an Outreach and Enrollment Team to help answer all your questions and assist you in signing up for healthcare insurance.
(920)-731-7445
Things to remember:
You must be enrolled by Dec. 15 for coverage to start on Jan 1, 2019. It may take extra days to obtain paperwork - start applying early. 
Cost savings are still available through premium tax credits to those eligible.
The Affordable Care Act is still intact, which covers pre-existing conditions, tax credits, and coverage for children up to 26 on their parents' plan.
Shop early to find a plan in your area that includes health care providers you want.
Watch out for scammers – make sure they are offering ACA qualifying plans. 
The Outreach and Enrollment Team can help you find the best plan for you and your budget and help you understand other changes in the health insurance law. 
Here are some ways to get help:  
Apply online at Healthcare.gov
Apply over the phone with Healthcare.gov call center: 1-800-318-2596  
Call 211 and ask for free enrollment help 
Text your zip code to 898-211 and ask for enrollment help
Call Partnership Community Health and Education Center at (920) 882-6420 (

English, Spanish and Hmong language speaking enrollment assistants are available

)
Call Winnebago County Economic Support: 920-236-4669
Call the Winnebago County Income Maintenance Call Center if you think you qualify for Badgercare at 1-888-256-4563 or apply on-line at access.wi.gov.  
Additional Websites