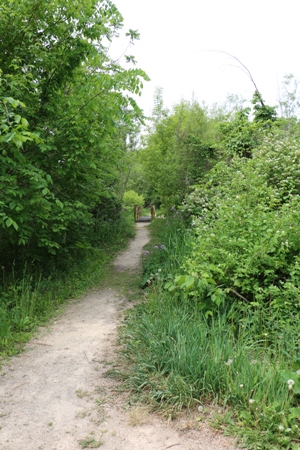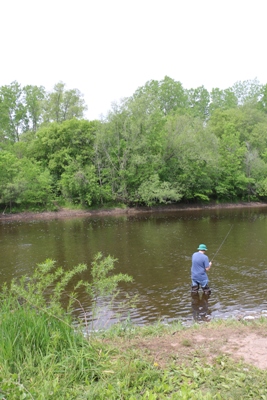 Originally this area was the site of an early day sawmill, which was later replaced by a woolen mill.  The mill purchased its raw wool from local sheep herders, and provided employment for many women through the community.  The grassy meadows and sparkling creek were often the location of church picnics and Sunday outings.  The local Baptist Church used the waters of the creek for baptismal ceremonies.  The creek cuts through glacial till (glacier deposited soil) resulting in a steep walled ravine and broad floodplain.  Because of its unique history, Waukau Creek Nature Preserve offers a wide variety of trees, wildflowers, wildlife and scenic beauty.
Natural Areas Preservation, Inc., a local conversation organization dedicated this area to Winnebago County on May 18, 1974.
No Dogs Allowed!
Handicap accessible fishing.  Rough fish-holding ponds with regulation devices that control its water level and divert the flow of the creek.  Perch, Bluegill, White bass, Northern can be caught in this pond.  Located on State Highway 116 in the Village of Waukau.  Rush Creek connects the Waukau Creek Nature Preserve with an additional 28 acres of county property located 1/2 mile away off Highway 116. This land, which formerly belonged to the Department of Natural Resources, contains a rough fish-holding pond with regulation devices that control its water level and divert the flow of the creek. Many species of fish can be caught in this pond.
WAUKAU CREEK MOUNTAIN BIKE TRAIL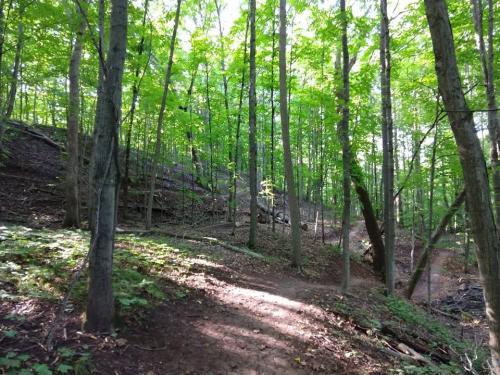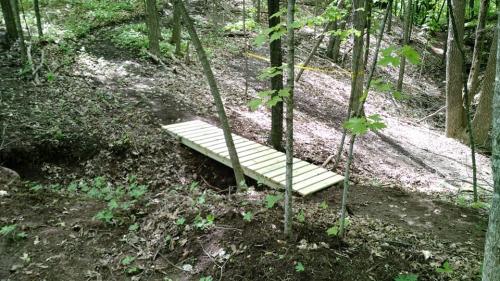 Waukau Dam Mountain Bike Trail is roughly a three-mile, single track mountain bike trail that flows along the steep hillsides and throuh the deep ravines of the Waukau Dam Nature Preserve.
A handful of mountain bike enthusiasts, with the support of the Oshkosh Cycling Club, have volunteered nearly 1,500 hours to build the trail. Donations to build the many wooden bridges and features have come from the Oshkosh Cycling Club, the trail builders, and private donors.
The trail is considered an intermediate level mountain bike trail. The rugged landscape makes for challenging climbs, fast descents and breathtaking views of Waukau Creek and surrounding forest.
Advanced features have been added along the trail for those who wish to hone their skills - numerous bridges, jumps, drops and skill features help to keep the ride exciting and challenging. Bypasses are available for all of the advanced features.
The trail is a "two way" and has been designed to ride completely different in each direction, making the most of the limited mileage. Be courteous - always be on the lookout for other riders and hikers.
The trail is open for riding year-round (fat tire bikes only in winter), weather permitting. The trail is closed to riding anytime it is wet or muddy. Trail conditions are closely monitored by the trail builders and current conditions can be found here:  https://www.facebook.com/WaukauDamBikeTrail/