Beginning January 3, 2023 the Winnebago County Health Department will be providing only the Pfizer COVID-19 vaccine, including the new updated bivalent vaccine and booster, to those over the age of 6 months. To find additional vaccine locations near you click here.
How do we know that the COVID-19 vaccine is safe and effective?
Vaccine approval is driven by science. The Food and Drug Administration (FDA), the Centers of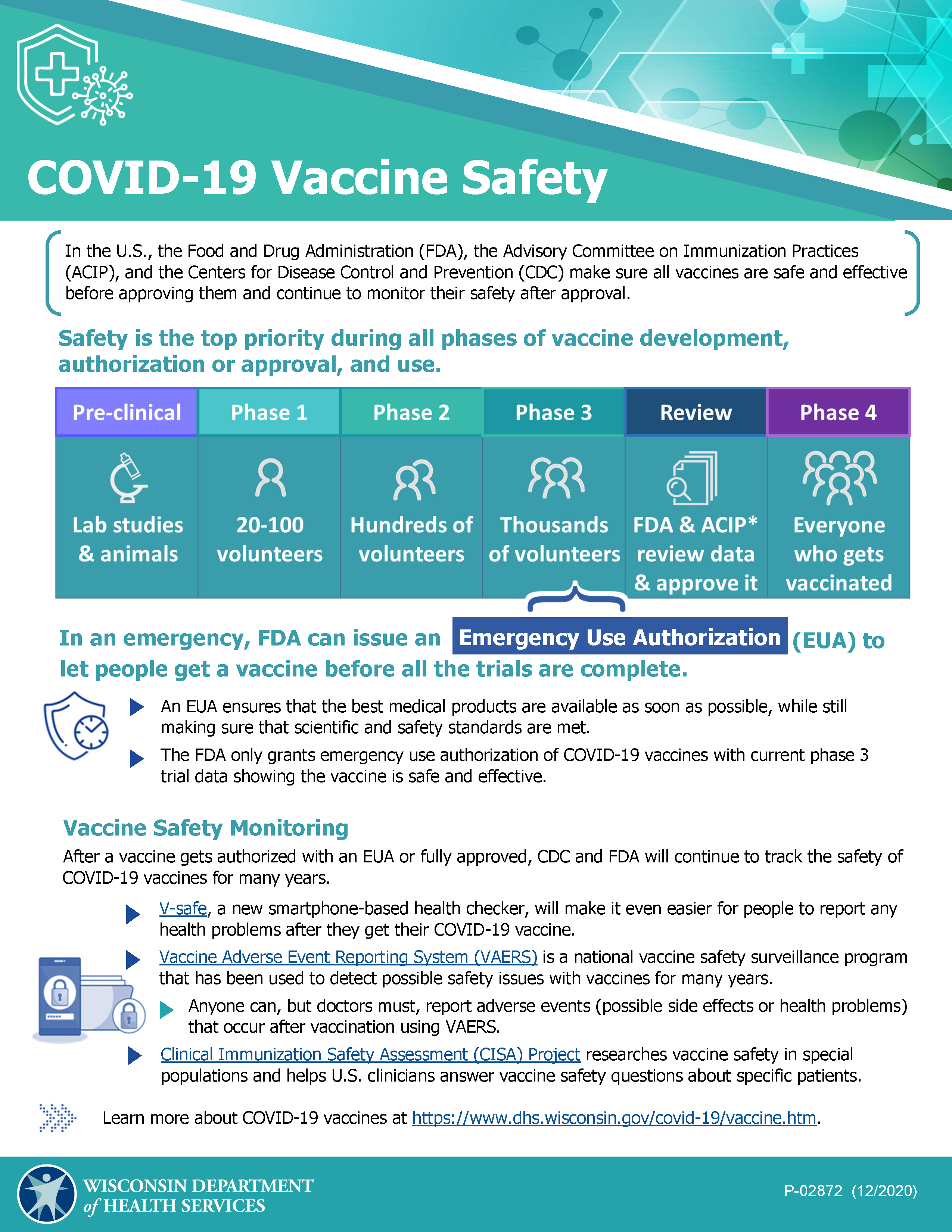 Disease Control (CDC,) and independent advisors review all vaccine safety and effectiveness data before any vaccine is approved or allowed for distribution. COVID-19 vaccines are going through all the same steps in the trial phases that all vaccines go through to get the full FDA vaccine license and approval.
During emergencies, like the COVID-19 pandemic, the FDA can issue an Emergency Use Authorization (EUA) to let people get a vaccine before all the trials are complete. The FDA will only give a COVID-19 vaccine an EUA if the current phase III trial data shows the vaccine is safe and has more benefits than risks. Like with all vaccines, after a COVID-19 vaccine is made available to the public, the FDA and CDC will continue to closely monitor the vaccine to help ensure any issues are immediately addressed.
COVID-19 vaccines were tested in large clinical trials to make sure they meet safety standards. Thousands of people were recruited to participate in these trials to see how the vaccines offer protection to people of different ages, races, and ethnicity, as well as those with different medical conditions.
---
The following websites provide the most current updates on COVID-19 vaccination: 
---
How can I stay informed on vaccine availability?
---
Additional Resources:
 HEALTHCARE PROVIDERS & VACCINATORS: CLICK HERE FOR MORE INFORMATION