Mission Statement
To provide services and benefits to all eligible residents of Winnebago County as promptly and accurately as possible.
SNAP (Foodshare), Medical Assistance/BadgerCare Plus, and Child Care
Winnebago County is one of 9 counties that make up the East Central Income Maintenance Partnership (ECIMP). The other counties are Calumet, Green Lake, Kewaunee, Manitowoc, Marquette, Outagamie, Waupaca, Waushara. Customers in all of the counties can contact the ECIMP Call Center to apply for benefits, report changes, check benefits, process eligibility, complete reviews, etc. Customers can also visit www.access.wisconsin.gov to apply for benefits, report changes or check benefits.
EAST CENTRAL Call Center
Phone: 1 888-256-4563
Hours: Mon, Tues, Wed, Fri 8am-4pm, Thurs 12pm-4pm
Check out our FAQ's to answer some of the frequently asked questions.
In an effort to enhance and simplify benefits management, the Wisconsin Department of Health Services (DHS) and the Wisconsin Department of Children and Families, launched the MyACCESS mobile app. With the MyACCESS mobile app, people are able to:
See a high-level overview of the programs they are enrolled in.

Receive reminders of actions they need to take or proof they need to submit.
Upload, submit and track documents.
Need more information before downloading the mobile app?
MyACCESS Mobile App FAQ's Webpage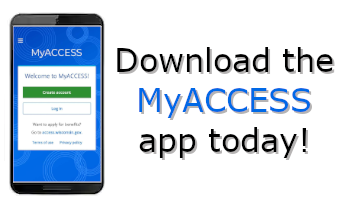 Benefits that may be available to you:
Wisconsin Home Energy Assistance Program (WHEAP)
Other Helpful Informaton
Public Assistance Fraud Program