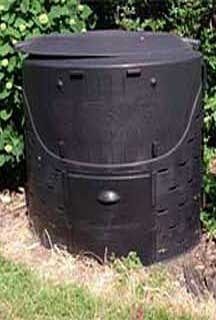 Compost supplies organic matter to soil, attracts earthworms, stimulates beneficial soil microorganisms, and increases both soil nutrient and water retention capacities. Homeowners save money by using compost to replace soil amendments like peat moss; have overall healthier soil with less need for fertilizer or pesticide and save tax dollars by reducing municipal costs for curb side pick up and drop-off sites for yard materials.
Compost bins are available at the Winnebago County Solid Waste Scale Office for $45 (includes tax). Cash, check, VISA or MasterCard accepted. Assembly is required. Please call 920-232-1800 or 920-232-1850 or email khutter@co.winnebago.wi.us for more information.
To learn more about composting see the University of Wisconsin - Cooperative Extension Compost Presentation for Beginners
Other helpful guides for backyard compost pile management and compost bin construction can be found at the University of Wisconsin - Cooperative Extension, Solid & Hazardous Waste Education Center.