Tribal Heritage Crossing of the WIOUWASH State Recreation Trail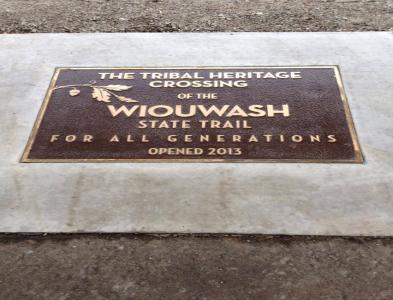 Originally opened in 1955, Lake Butte Des Morts causeway was in need of an upgrade due to the increasing traffic volume. The Wisconsin DOT built a eight-lane crossing by widening it to the west. The new causeway opened in July 2013 and provides increased safety and improved traffic flow.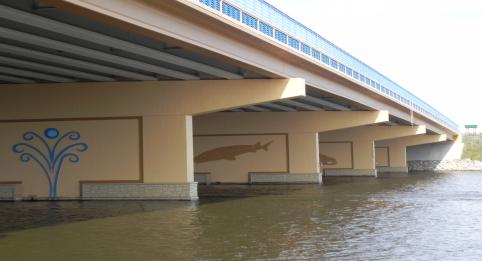 As part of the US 41 project, the highly anticipated new causeway offers runners, walkers, bikers and in-line skaters the ability to cross Lake Butte Des Morts on a trail which connects to the WIOUWASH State Recreation trail on the north end of the Tribal Heritage Crossing Trail. The Tribal Heritage Trail provides access to fishing and kiosk overlooks for all 11 of Wisconsin's Native American Tribes with information on the natural history of those tribes.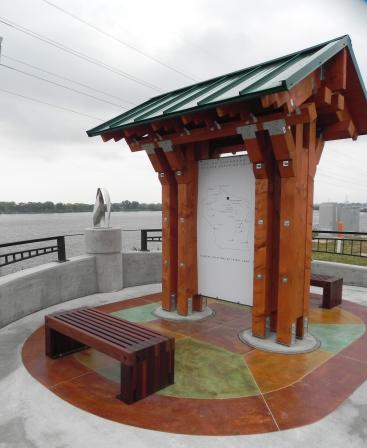 The overlooks open a window to the water system with history that is remarkable. It is the ancestral home to Native Americans who have been here since the time immemorial. Lake Butte Des Morts is described as a vibrant river channel winding through a vast expanse of wild rice with fishing, furbearing animals and waterfowl. In the 1850's the waterway changed dramatically with an influx of new settlers and industry, including two dams on the twin lower Fox River outlets of Lake Winnebago.

Overlook Names:
#1 - Bad River Band of Lake Superior Chippewa
#2 - Stockbridge - Munsee Band of the Mohicans
#3 - Oneida Nation of Wisconsin
#4 - Menominee Indian Tribe of Wisconsin
#5 - Lac Du Flambeau Band of Lake Superior Chippewa
#6 - Red Cliff Band of Lake Superior Chippewa
#7 - Ho-Chunk Nation
#8 - Lac Court Oreilles Band of Lake Superior Chippewa
#9 - Sokaogon Mole Lake Band of Lake Superior Chippewa
#10 - St. Croix Band of Lake Superior Chippewa
#11 - Forest County Potawatomi
#12 - Lake Butte Des Morts History
#13 - Offering Fire
*There is no fee to use the Tribal Heritage Trail
*Dogs are allowed on the Tribal Heritage Trail but must remain on a 8-foot leash, please clean up after your pet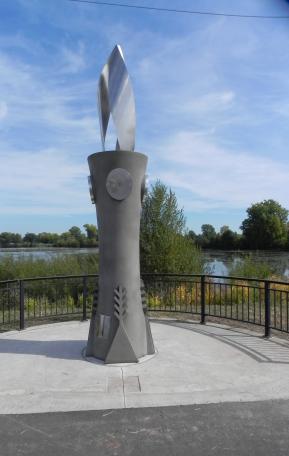 *Horses are not allowed on the Tribal Heritage Trail. They are only allowed on designated areas of the WIOUWASH trail during specific times of the year
*Motorized vehicles are not allowed on the Tribal Heritage Trail with the exception of those used for ADA accessibility
*The Tribal Heritage Trail will not be plowed during the winter months
*Snowmobiles and ATV's are not allowed on the Tribal Heritage Trail and will be issued citations by the Winnebago County Sherriff's Department
*There may be a porta potty seasonally located at one end of the crossing
*All trails are "carry in - carry out" so no refuse containers will be positioned along the crossing
*You can legally park at the Westwind Trail Head parking lot, or along Marine Drive on the north end of the crossing, or along Rath Lane and Butte Des Morts Drive on the south end of the crossing
*All other ordinances in place for Winnebago County's Recreational Trails will be enforced
Grand Opening of the Tribal Heritage Trail was
October 12th, 2013
To view more pictures, please visit the Winnebago County Parks & Expo Center facebook page