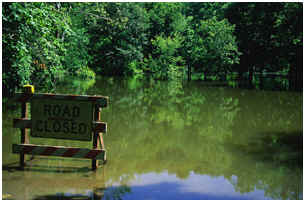 This program involves community preparedness planning and exercises to respond to natural disasters, pandemic influenza, mass clinic operations, natural disaster events, nuclear/biological/chemical/explosive terrorism events or accidents, and 24/7/365 availability of trained public health staff.
Planning activities include the development, maintenance, and revisions of:
Public Health Emergency Plan (PHEP), a region-wide document that provides guidance, protocols, and a response structure to public health agencies faced with an emergency event.
Pandemic Influenza Response Plan, which includes case estimates, potential response actions, and guidance to respond to pandemic flu.
Mass Clinic Plan, which provides guidance, instructions, staff estimates, traffic flow patterns, volunteer coordination, and support to operate a vaccination clinic or drug dispensary clinic for 32,000 persons at the Sunnyview Expo Center.
Strategic National Stockpile (SNS) Plan, which provides the protocol to request the SNS materials, drugs, vaccines, and other medical supplies from the Federal Government.
Continuation of Operations/Continuation of Government (COOP/COG) Plans, which provide guidance and procedures to continue health department operations in an alternate location if the existing health department offices were unavailable due to a disaster.
Staff development and training plans, to assure that all health department staff members are trained and competent in their emergency response roles.
Emergency Operations Plans (EOP), WCHD assists Emergency Management in maintaining the County's EOP Sections that include public health responses.
Winnebago County Area Mortuary Plan for Pandemic Influenza, which provides a regional protocol for handling pandemic influenza, and other disaster events with large numbers of casualties and much mortality.
Winnebago County Area At-Risk Populations Emergency Response Plan, which provides a regional approach to addressing the emergency notifications, directions, services, and transportation needs of special populations within the county and municipalities.
Recent Emergency Exercises:
Regional Mass Clinic Table Top Exercise, Kimberly, 2011
Winnebago County Emergency Operations Center/Mass Clinic Table Top Exercise, Oshkosh, 2011
Winnebago County COOP/COG Table Top Exercise, Oshkosh, 2011
Power Outage Table Top Exercise, Waupaca, 2010
H1N1 Pandemic Influenza Clinics (Real events), Winnebago County, 2009 and 2010
Mass Clinic Exercise, Fond du Lac, 2009
WCHD Preparedness End of Year Reports
Prepare & Respond - Natural Disasters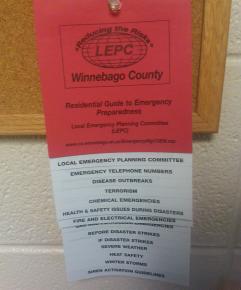 Obtain a copy of the Residential Guide to Emergency Preparedness at the Winnebago County Health Department. The guide is prepared by the Winnebago County Local Emergency Planning Commitee (LEPC).
The guide is also available electonically at the Winnebago County Emergency Management website click on the icon below.

Links