Children whose insurance covers immunizations will not be able to receive vaccines at local health departments. They will need to visit their primary health care provider for their immunizations and we encourage parents to plan ahead to ensure their children are fully vaccinated.
Children eligible for the Vaccines for Children (VFC) program are those that: 1) have no insurance, 2) are on Medical Assistance (includes BadgerCare), or 3) are Native American or Native Alaskan. These children can receive their immunizations at their local health department or from a private health care provider. Childhood vaccines will be given free of charge. Adult vaccines are available at the health department, please call to inquire.
If you have questions, please call the Winnebago Health Department at 232-3000.
To see when the next immunization clinic is being held, please refer to our Event Calendar.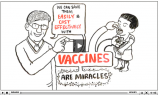 To view a video message from the Bill & Melinda Gates Foundation regarding the importances of immunizations click on the picture
Immunizations that we offer
Call (920) 232-3000 to inquire if other vaccines are available
Childhood/Adolescent Vaccines
Rotavirus (2 month, 4 month, 6 month) (8 weeks-32 weeks)
Pediarix (DTaP, Hep B, Polio)
Kinrix (Kindergarten shot) (Dtap & Polio Combo.)
Hib (Haemophilus Influenza B Conjugate)
MMR (Measles, Mumps, Rubella)
Varicella
Influenza
Hepatitis A
Hepatitis B
DTaP (Diptheria, Tetanus, and Pertussis) (0-7 yrs)
Polio
Pneumococcal (Prevnar)
HPV (Human Papilloma Virus) Gardisal (9-18 yrs)
Meningococcal (11-18 yrs)
Tdap (Tetanus, Diptheria and pertussis) (10-18 yrs)
Adult Vaccines
Hepatitis A
Hepatitis B
Tdap (Tetanus, Diptheria and Pertussis) (19+)
Tetanus
MMR (Measles, Mumps, Rubella)
Twinrix (Hep A & Hep B combination)
Links