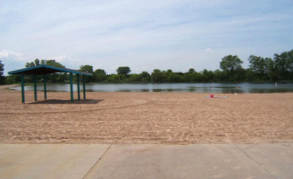 Northeastern Wisconsin citizens have access to many fresh water resources. The area's many lakes, rivers, ponds and streams allow residents to enjoy opportunities to fish, boat, and swim during the summer months. Although we generally consider the area's waterways to be safe, people that use recreational water resources must be aware that water-borne illness is always a possibility.
Recreational Water Illnesses (RWI) are illnesses that are spread by swallowing, breathing, or having contact with contaminated water from lakes, rivers, or other surface waters. Recreational water illnesses can cause a wide variety of symptoms, including gastrointestinal, skin, ear, respiratory, eye, neurologic and wound infections. The most commonly reported RWI is diarrhea. Diarrheal illnesses can be caused by many pathogens, including cryptosporidium, giardia, and E.coli.
Lakes, rivers, and surface waters can become contaminated with germs from sewage, animal waste, water runoff following rainfall, and fecal accidents. It is important to avoid swallowing the water because natural recreational water is not disinfected. Avoid swimming after rainfalls or in areas identified as unsafe by the local health departments.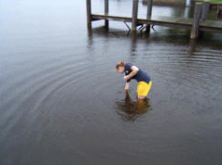 The Winnebago County Health Department has been monitoring the recreational water quality at several locations in the Lake Winnebago/Poygan basin for the past two years. The Health Department is contracting with the University of Wisconsin-Oshkosh microbiology lab to have UWO students collect water samples from public access points, and then analyze the samples for total coliform and E. coli bacteria. The samples are collected and analyzed weekly throughout the swimming season.
Citizens can gain access to results by going to:
Winnebago County Inland Water Sampling information - This interactive site, developed in cooperation with the County Land and Water Conservation Department, allows users to select the access point they are interested in, click on an icon, and see the sample results for that location. A warning is posted whenever a sample result is above the EPA advisory level of 235 colony forming units per 100 milliliters of sample water (cfu/100 ml). Recreational water users now have a way to obtain water quality data, and can make informed decisions about the risks of recreating in that location.
Other Resources